McCoy's Building Supply Welcomes First Load of Lumber from Angelina Forest Products
McCoy's Building Supply recently welcomed the delivery of its first load of lumber from the new Angelina Forest Products ("AFP") sawmill in Lufkin, Texas.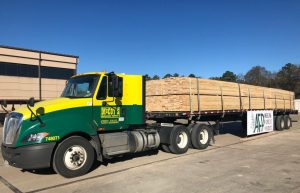 Several McCoy's team members were in attendance for the initial production delivery and toured the AFP facility. These team members included Waylon Walker (Senior Vice President of Operations and Merchandising), Donnie Wright (Director of Merchandising), Brandon Bishop (Commodities and Freight Manager), Amanda Duffield-Quinn (Senior Commodities Buyer) and Tyler Fenley (Lufkin Store Manager).
"McCoy's is honored to be an AFP customer and further support the Lufkin and Texas economies," said Walker. "They've put together a first-class leadership team comprised of industry veterans who will ensure a quality product with great service. We're proud to partner with AFP as one of our suppliers."
"It was a pleasure to attend this event and represent McCoy's," said Bishop. "We're looking forward to building on the connections that run deep between our team and AFP's team in the years to come."
The close relationship between both companies was echoed by Stephen Raley (Angelina Forest Products Executive Vice President of Sales and Marketing) who shared, "Many folks on our teams have worked together in the past. We really enjoy working with another Texas-based company to bring sustainable forest products to the building industry."
"It was so exciting to receive the first shipment from AFP. You could feel the energy from the AFP team, our McCoy's team, and the community," said Fenley. "The new sawmill is an impressive, first-class operation." Angelina Forest Products is one of the largest sawmills in Texas and the southeastern United States, producing a full line of Southern Yellow Pine lumber products.
Source: McCoy Corporation