Shaw Veteran Ken Jackson Set to Retire in July
Shaw Industries Group, Inc. ("Shaw") announces the retirement of Ken Jackson, chief financial officer ("CFO") effective July 1. Jim Kirkpatrick will become the company's new CFO.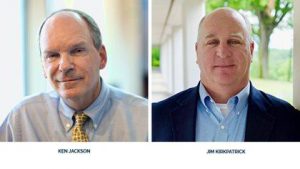 Jackson joined Shaw in 1996 from Arthur Andersen, where he worked for 15 years, including serving as a key tax partner for Shaw. During his first five years with Shaw, he served as CFO of a public company, managing relationships with Wall Street, bankers, and others. Over the past 19 years under the Berkshire Hathaway ownership, Jackson expanded the CFO role to also lead many of the administrative areas within Shaw.
Shaw Chairman and CEO Vance Bell notes, "Ken and I have been partners through numerous dynamic market conditions over the past 24 years. He has been a valued advisor and friend. Not only to me and the Shaw team, but to our customers. Ken guided many customers through financial benchmarking and generally helped them with their business. I'd venture to say that many of our customers came out of the financial crisis much stronger due to Ken's support and assistance."
Under Jackson's leadership as CFO, Shaw merged with Queen Carpets, acquired Anderson Hardwood Floors, entered the turf business through several acquisitions, and acquired USFloors.
Kirkpatrick also joined Shaw in 1996 from Arthur Andersen, where he was an audit manager focused on the manufacturing and financial service industries. During his 24 years with Shaw, Kirkpatrick has led the company's internal audit, financial services, treasury, and accounting functions. In addition, he led the due diligence and integration teams that managed many of Shaw' acquisitions. He played an integral role in the dealer acquisition and development of Spectra, which continues to be a thriving business today.
"Jim has consistently demonstrated an ability to build successful teams to deliver high value results, make effective decisions and communicate complex situations with clarity. He uses sound business logic to assess the market for new and/or emerging business development opportunities," stated Bell. "Jim has served as a trusted advisor to Ken and me. As Ken's retirement approached, Jim's experience and performance made it clear to the executive team that he was the ideal choice to help continue to drive our company forward."
About Shaw
Shaw Industries Group, Inc. supplies carpet, resilient, hardwood, laminate, tile and stone flooring products and synthetic turf to residential and commercial markets worldwide. We are a wholly owned subsidiary of Berkshire Hathaway, Inc. with approximately 22,000 associates worldwide. Shaw is headquartered in Dalton, Georgia, with salespeople and/or offices located throughout the U.S. as well as Australia, Brazil, Canada, Chile, China, France, India, Mexico, Singapore, United Arab Emirates and the United Kingdom.
Source: Shaw Industries Group, Inc.