Hampton Lumber Becomes Official Sponsor of Portland Thorns FC
Hampton Lumber is pleased to announce a multiyear partnership with Portland Thorns FC. Hampton has been the Official Wood Products Sponsor of the Portland Timbers since 2017, supplying the team with sustainably grown and harvested Victory Logs from Hampton's nearby forestlands. Hampton also supports the Timber's TREES Youth Soccer Camp summer program.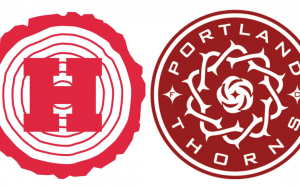 Hampton's sponsorship of the Thorns begins with the 2020 season, which has been modified by the National Women's Soccer League due to COVID-19 restrictions on public gatherings. "We're proud to lend our support to these incredible athletes," said co-owner David Hampton. "We know times are difficult right now but we wish the women the best of luck in their tournament in Utah and look forward to seeing them once again at Providence Park. Go Thorns!"
Hampton Lumber is a fourth-generation family-owned wood products company, headquartered in Portland, Oregon. Hampton operates four sawmills in Oregon in the communities of Willamina, Warrenton, Tillamook, and Banks. The company also manages 140,000 acres of forestland in the Pacific Northwest and operates a wholesale lumber business out of the Portland office.
Source: Hampton Resources, Inc.