The RONA Store in Weyburn is Now Open to the Public
Lowe's Canada, one of Canada's leading home improvement retailers operating or servicing more than 470 corporate and affiliated stores under different banners, joins dealer-owner Jeff Chessall and his family in celebrating the grand opening of the RONA Weyburn store in Saskatchewan. This morning, residents of Weyburn and the surrounding communities set foot for the first time in the brand-new building centre, located at 300 Railway Avenue. The result of 12 weeks of work and a major investment, the new store offers one of the largest selections of home improvement products in the area and employs 20 people.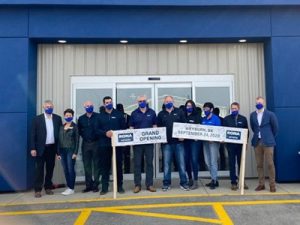 "This project grew out of our desire to meet the community's home improvement needs here in Weyburn, while making good use of the experience and expertise acquired in managing our other local businesses," Mr. Chessall said. "Even before the grand opening, we could feel the community's enthusiasm, which is reinforcing our motivation to become the destination of choice for all DIYers and home improvement professionals in the area. The support provided by the RONA team is a significant asset in the achievement of this goal."
With a 10,000-sq.-ft. sales area, a 25,000-sq.-ft. outdoor lumber yard, and a 3,000-sq,-ft garden centre, the store offers more than 7,500 products throughout various departments, including lighting, bathroom, appliances, flooring, seasonal products, paint, and building materials. Customers may also visit rona.ca to find more than 40,000 products that may be ordered for pick-up in store or home delivery.
"Mr. Chessall is a devoted entrepreneur who is proud of his community and truly at the service of his customers," said Philippe Element, Vice-President, RONA Sales and Dealer Support. "His enthusiasm, creativity, and passion profoundly embody the values that make up the strength of our RONA affiliated dealer network. I am convinced that given his vast experience in retail and his sincere dedication, he will become a valued partner. We are delighted to celebrate with him the success of his current and future projects."
Grand Opening Celebrations
Earlier today, Jeff Chessall was joined by Weyburn mayor Marcel Roy and Dustin Duncan, MLA for Weyburn-Big Muddy, as well as his family and the entire RONA Weyburn team to mark the store's inauguration with the traditional board-cutting ceremony. Weyburn residents were also invited to attend the celebration and take part in the grand opening activities, which will run until Saturday, September 26. Over the next few days, they will be able to take advantage of exclusive offers.
Thursday, September 24
– A free lunch between 11:30 a.m. and 1:30 p.m.
From Thursday, September 24, to Saturday, September 26
– A RONA T-shirt (for the first 25 customers each day)
– A $10 gift card with any purchase of $100 or more (limit of one gift card per customer)
– A 15% discount on anything that can fit into a $2 bucket
In addition, a Wor-Kin Shop representative was in attendance to acknowledge RONA Weyburn's support to this organization, which provides services to adults experiencing intellectual disabilities to improve their quality of life, assist them in their independence, and promote their inclusion in the community. As part of the Lowe's Canada Heroes campaign, the store will be collecting donations at checkout and through various activities until September 30 to support Wor-Kin Shop's mission. At the end of the fundraising event, Lowe's Canada will match 50% of all donations received, up to $2,000.
"We are proud to contribute to the inspiring work of Wor-Kin Shop, especially since one of our employees benefits from its program. He is proof not only of the excellent services provided, but also of the organization's beneficial contribution to the lives of dozens of our fellow citizens," Mr. Chessall added.
Store address:
300 Railway Avenue, Weyburn, Saskatchewan
Opening hours:
Monday to Thursday, 8 a.m. to 7 p.m.
Friday and Saturday, 8 a.m. to 6 p.m.
Sunday, 10 a.m. to 5 p.m.
To share this news on social media, please use @Lowe's Canada (LinkedIn), @LowesCanadaCorp (Twitter), and @ronaweyburn (Facebook).
About RONA
Created in 1939, RONA is a banner of Lowe's Canada, one of Canada's leading home improvement companies headquartered in Boucherville, Quebec. Spanning the entire country, its vast network of more than 375 stores includes both corporate stores and independent affiliated dealer stores. Known for its large in-store and online product selection as well as for its installation services, RONA also provides expert support and advice to its retail and pro customers for their building and renovation projects. For more information, visit rona.ca or follow us on Twitter, Facebook, and Instagram.
About Lowe's Canada
Lowe's Companies, Inc. (NYSE: LOW) is a FORTUNE® 50 home improvement company serving approximately 18 million customers a week in the United States and Canada. With fiscal year 2019 sales of $72.1 billion, Lowe's and its related businesses operate or service more than 2,200 home improvement and hardware stores and employ approximately 300,000 associates. Based in Boucherville, Quebec, Lowe's Canadian business, together with its wholly owned subsidiary, RONA inc., operates or services more than 470 corporate and independent affiliate dealer stores in a number of complementary formats under different banners. These include Lowe's, RONA, Réno-Dépôt and Dick's Lumber. In Canada, the companies have more than 26,000 associates, in addition to approximately 5,000 employees in the stores of independent affiliate dealers operating under the RONA banner. For more information, visit lowescanada.ca.
Source: Lowe's Companies Canada ULC