Wausau Supply Now Distributing Envision Composite Decking in Colorado
Envision Building Products LLC is pleased to announce an agreement with Wausau Supply Company to distribute Envision composite decking in Colorado.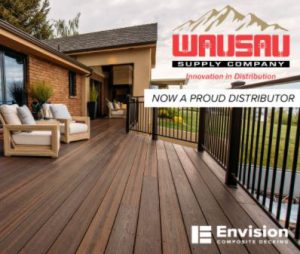 "Wausau Supply Company is extremely excited to partner with Envision Decking in our Southwest Rocky Mountain Region," said Ryan Rudd, Wausau Supply's Regional Manager in its Southwest Rocky Mountain Region. "Envision's product offering will provide a great opportunity to our customers and their decking contractors with a strong line-up in this category. The product portfolio they bring to market will fit well with our current value added product offering in Colorado and Northern New Mexico."
"We're very excited to partner with Wausau Supply," said Shara Gamble, Vice President Sales and Marketing for Envision, "Their extraordinary service and support is well known. This gives us the opportunity to continue growing in one of the strongest decking markets in the country."
About Wausau Supply Company
Wausau Supply Co., a 100% employee-owned company, was established in 1947, building its foundation on providing next-day deliveries to its network of dedicated retailers. Today, they serve customers from the Pacific Northwest to the Tennessee River Valley, by providing the best in customer service and a wide range of high quality building products. Learn more at wausausupply.com.
About Envision Building Products
Envision Building Products LLC provides homeowners with exceptional decking and railing products to create a beautiful outdoor space. Manufactured in the heartland of the USA, these offerings include Distinction®, Inspiration®, Expression® and EverGrain® composite decking, along with TAM-RAIL® railing. For more information, visit our website at www.EnvisionDecking.com.
Source: Envision Building Products, LLC