Kodiak Announces New Position and Promotion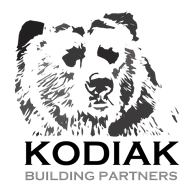 Kodiak is pleased to announce the creation of a new leadership position within its organizational structure. Its plans to expand its success in the Pacific Northwest will be bolstered by having oversight that is focused on these intentions.
The new position of President Kodiak Building Partners Pacific Northwest will be filled by Kelly Fox. Kelly joined Frontier Building Supply in June 2019 and has served as its President. While overseeing Frontier, he consistently improved results and promoted its culture as a great place to work. Prior to joining Frontier, Kelly was the CEO/Trustee of Lumber Traders, Inc.
Kelly will have overall responsibility for the management staff at Frontier and work closely with Wade Gardner and his team at Builders Alliance.
He plans to honor the local leadership at the companies and continue operating as close to the customer as possible, while creating paths that utilize best practices from the operations. Kelly is looking forward to his new role and said, "It will be a privilege to serve and support over a hundred employees by being a part of their personal and professional growth by working to create new opportunity for all of us.".
Executive VP of Operations for Kodiak, Pat Flood, shares that, "Kelly has demonstrated outstanding leadership at Frontier, and I am very excited to have him lead and grow our family of Kodiak companies in the Pacific Northwest."
About Kodiak Building Partners
Kodiak Building Partners, through its 83 locations, serves general contractors, homebuilders, sub-contractors, remodelers, and consumers in Arizona, California, Colorado, Delaware, Florida, Idaho, Illinois, Indiana, Kansas, Maryland, Massachusetts, Michigan, Minnesota, Nebraska, North Carolina, Oregon, Texas, Washington, Wisconsin, and Wyoming. www.kodiakbp.com.
Contact:
Cally Fromme – Vice President Communications & Culture – cally.fromme@kodiakbp.com
Source: Kodiak Building Partners, LLC