New RONA store for Fraser Valley Building Supplies in Terrace, British Columbia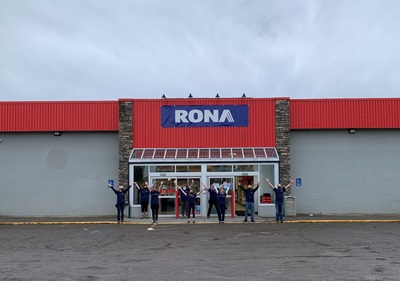 Lowe's Canada, one of Canada's leading home improvement retailers operating or servicing some 470 corporate and affiliated stores under different banners, congratulates the team at Fraser Valley Building Supplies ("FVBS") on the acquisition of their latest home improvement location, the Terrace Builders Centre located at 3207 Munroe Street. The store, which employs 40 people and has been serving the local community since 1981, will undergo an 8-week interior renovation process and be converted to the RONA banner. The renovation, which is expected to represent a local investment of approximately $300,000, will provide customers with a new and improved shopping experience.
"We are thrilled to be expanding the Fraser Valley Building Supplies family to the Terrace area and to bring the RONA value proposition to local homeowners and Pros," says Ray Cyr, President of Fraser Valley Building Supplies. "Shoppers can expect to find new products and services at the store in the coming weeks as we roll out exclusive brands and programs, including the VIPpro program, which caters to the specific needs of contractors and home improvement professionals. One thing will remain the same though, and that is the familiar faces and the level of service and expertise that Terrace Builders Centre customers have come to know and trust over the years," adds Ray.
In addition to its 20,000-sq.-ft. retail area, the store features a 25,000-sq.-ft. warehouse as well as an adjacent garden centre and a 2.5-acre exterior lumber yard with drive-through service. Overall, RONA Terrace Builders Centre will offer more than 20,000 products on site, including a full range of building materials and hardware items to meet the needs of local DIYers and contractors alike. To provide even more choices to its customers, FVBS will also be adding e-commerce to its offering over the next few months, giving residents of the area access to thousands more products on rona.ca.
"We couldn't be more excited to partner with Ray and the Fraser Valley Building Supplies team to bring the RONA offering to the Terrace area," declares Philippe Element, Vice-President, RONA Sales and Dealer Support at Lowe's Canada. "Ray and his partners are outstanding entrepreneurs who spare no efforts to bring the best to the communities where they set up shop. With this sixth RONA location, they bring a solid expertise to local customers and consolidate their presence in British Columbia."
To share this news on social media, please use @buildingsupplies.ca (Facebook), @Fraser Valley Building Supplies Inc and @Lowe's Canada (LinkedIn), or @fvbsupplies and @LowesCanadaCorp (Twitter).
About Fraser Valley Building Supplies
Fraser Valley Building Supplies ("FVBS") is a BC owned and operated company with strong community values and ties in all markets in which it operates throughout the Province. FVBS has been servicing both our Consumer and Contract customers since 1992 and has experienced rapid growth since aligning with RONA in 2015 by expanding its offering of goods and services to the Fraser Valley, the West Kootenays and now the Terrace region.
About Lowe's Canada
Lowe's Companies, Inc. (NYSE: LOW) is a FORTUNE® 50 home improvement company serving approximately 20 million customers a week in the United States and Canada. With fiscal year 2020 sales of nearly $90 billion, Lowe's and its related businesses operate or service more than 2,200 home improvement and hardware stores and employ over 300,000 associates. Based in Boucherville, Quebec, Lowe's Canadian business, together with its wholly owned subsidiary RONA inc., operates or services some 470 corporate and independent affiliate dealer stores in a number of complementary formats under different banners, which include Lowe's, RONA, Reno-Depot, and Dick's Lumber. In Canada, they have more than 26,000 associates, in addition to approximately 5,000 employees in the stores of independent affiliate dealers operating under the RONA banner. For more information, visit lowescanada.ca.
Source: Lowe's Companies Canada ULC