L&W Supply Names 12 New Managing Partners in 2021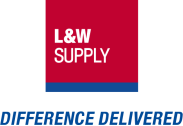 L&W Supply Corporation, a leading distributor of top-quality building materials and specialty products, has announced the induction of 12 branch managers into its Managing Partner Program. The designation is the highest level of achievement among the company's branch managers and places them in a distinguished position of leadership at L&W Supply.
To be selected as a managing partner, these branch managers have met rigorous standards in the areas of customer satisfaction, associate development, branch performance, safety compliance and community development.
"These branch managers have already proven themselves capable of running a branch successfully – one of the most challenging jobs in our field," says Dan Piché, president of L&W Supply. "As managing partners, they will be granted access to opportunities and support that will allow them to go even further in accomplishing L&W Supply's goal of becoming the best specialty building materials distributor."
L&W Supply's 2021 Managing Partner inductees are:
– Marco Alva of Sun Valley, CA
– Jeff Bollmer of Dayton, OH
– Ike Brinson of Bloomington, IN
– Kevin Caddell of North Charleston, SC
– Jeff Cook of Durham, NC
– Travis Dauffenbach of Burnsville, MN
– Michael Dolan of Wake Forest, NC
– Scott Grieve of Louisville, KY
– Jason Keck of Doraville, GA
– Logan Phillips of Arden, NC
– Fredy Vega-Gil of Nampa, ID
– Chris White of Flowood, MS
These managers will take on important new responsibilities within L&W Supply while continuing to oversee their local branches.
About L&W Supply
Headquartered in Chicago, L&W Supply is a leading nationwide distributor of gypsum wallboards, suspended ceiling tiles and other interior building materials. From its founding in 1971, L&W Supply has expanded its reach to nearly 200 branch locations in 39 states. L&W Supply was acquired in 2016 by the nation's largest wholesale distributor of roofing, siding, windows and gutter materials, ABC Supply Co., reinforcing the companies' leadership in building materials distribution. More information is available on www.lwsupply.com.
About ABC Supply
ABC Supply Co. Inc. is the largest wholesale distributor of roofing in the United States and one of the nation's largest wholesale distributors of select exterior and interior building products. Since 1982, ABC Supply's focus has been serving professional contractors and offering the products, services and support they need to build their businesses. A 15-time Gallup Great Workplace Award winner and two-time recipient of Glassdoor's Employees' Choice Award, ABC Supply is an "employee-first" company. Headquartered in Beloit, Wisconsin, ABC Supply has over 800 locations nationwide. More information is available at www.abcsupply.com.
Contact:
Becca Vollmer – bvollmer@hiebing.com – (608) 256-6357
Source: L & W Supply Corporation