Strategic Perks: Understanding and Navigating Today's Truck Driver Shortage (Part 4 of 5)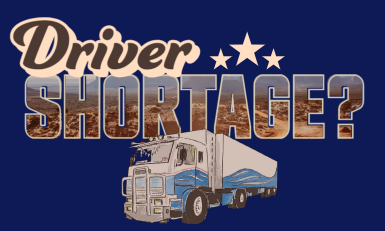 The truck driver capacity shortage is a real phenomenon, driven by too few drivers and too much driver turnover, equipment availability issues, and productivity reducing regulation, dock delays, and road congestion.
In this fourth of a five part series about understanding and navigating today's truck driver shortage, we explore how treating drivers with respect, paying them well, providing a positive work environment, and keeping them productive will help stem turnover and capacity instability.
"The carriers are increasing pay, so that's getting better," notes Gail Rutkowski, executive director for the National Shippers Strategic Transportation Council. "The challenge is going to be creating work-life balance to attract more women and younger adults. They don't want to be on the road for extended periods of time. Carriers need to address this and there will be costs involved."
One unintended consequence of higher pay and signing bonuses is elevated turnover. Job switching is common, but drivers are doing it more frequently than normal, according to Ryan Carter, president of Scotlynn USA Division Inc. and Scotlynn Transport LLC.
The keys to retention are being a first mover in the wage increases and adopting bonus systems that reward longevity rather than initial hiring.
Dock delays and dwell time also create tremendous problems for drivers. Time spent waiting is time lost, as the hours of service clock keeps ticking.
"The days of expecting a driver to wait eight hours to pick up or drop a load are long gone," says Kenny Lund, executive vice president at Allen Lund Company, LLC. "If you're holding up truckers from moving the next load, you're no longer a shipper of choice and you'll definitely pay more for transportation."
Shippers and receivers must do their part to facilitate driver productivity. Lund suggests using a transportation management system with dock scheduling capabilities to limit delays.
We'll conclude this article series by looking at how rates and brokers can be an effective capacity management strategy.
Source: Blue Book Services, Inc.