Nebraska, Kansas & Colorado Railway Honors Shipping Safety With Community Donations to Three Local Nebraska Fire Departments
Nebraska, Kansas & Colorado Railway, LLC, ("NKCR"), a managed affiliate of OmniTRAX – the transportation affiliate of The Broe Group – presented three community donations to local Nebraska fire departments at individual ceremonies honoring NKCR's recipients of the annual OmniTRAX Safe Shipper Award. The OmniTRAX Safe Shipper Award recognizes companies that model exemplary shipping safety by shipping or receiving loaded cars with no accidental releases during the previous year.
"Safety is a shared priority in the communities we serve, and this year's three NKCR Safe Shipper award winners have each demonstrated their tireless commitment to community safety," said OmniTRAX CEO Dean Piacente. "It is our honor to recognize their accomplishments with donations to the local Nebraska fire departments that serve our communities every day."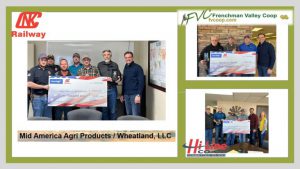 The 2021 OmniTRAX Safe Shipper Award recipients for the NKCR are Mid America Agri Products/Wheatland, Hi-Line Co-op, and Frenchman Valley Coop. In their honor, NKCR made $1,000 Safe Shipper donations respectively to the Madrid Volunteer Fire Department, the Grant Volunteer Fire Department, and the Imperial Volunteer Fire Department.
Source: OmniTRAX, Inc.