Roseburg Interns Make a Measurable Impact With Real-World Projects

Roseburg recently had the honor of welcoming 34 college interns to the company for this year's internship program – the biggest class of interns we've ever had! Our internship program is built around real-world projects so that our team members get hands-on experience tackling actual business challenges. Roseburg also takes a total business model approach, meaning that we recruit interns for positions all across the company, from mills and manufacturing, to forestry, I.T., accounting, and more!
Will Potter, an Oregon State University student majoring in forestry, has been helping the Roseburg resources team with post-planting surveys to make sure that our forestlands are healthy one, two, and five years after planting. This means trekking out into the field to gather height and diameter measurements of trees, as well as checking for damage from wildlife such as deer, elk, and mountain beaver.
What Will appreciates most is the ways in which his internship brings a deeper relationship to the work that he's been learning about in school. While he's spent time processing this kind of data in school, he's never gone out to the forest to gather it himself.
"The whole reason I got into forestry was because I wanted to work outdoors. This is a great opportunity for me to get paid to do something I really love… but to go out and get the data myself, it puts it in perspective and gives context for the schoolwork I'm doing, which is really nice."
It's not all trees and outdoor fieldwork, though; Rodrigo Rivas Aguilar is an intern with Roseburg's I.T. department, and he's been busy digging into the company's help desk and ticketing systems to look for opportunities for improvement and refinement. Not only is it giving Rodrigo real-world experience tackling tangible business problems; it also contributes to Roseburg's emphasis on continuous improvement across the entire company.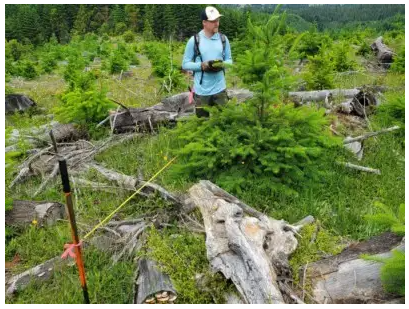 "I've always loved playing with computers, but this is a good intersection between computer stuff and business," Rodrigo says. He adds that knew he wanted to work with computers but wasn't sure how – until he took a spreadsheet analysis program in school that opened his eyes to the value and power in data. Now, he's hoping to use that power for good: "It'd be cool to work for a nonprofit and look at data where I can make an impact on a community."
That focus on business data and continuous improvement trickles down to every corner of Roseburg's business, including our finance and compliance teams, who are tasked with the job of dotting all of our I's and crossing our T's to make sure the business runs smoothly and efficiently. Marissa Dougall is an intern on our compliance team and has hit the ground running in auditing Roseburg's compliance with various legal requirements.
"I was drawn to [Roseburg] because it sounded different than what I'd done before; I hadn't learned about how to audit compliance in school, and I thought it would be a cool thing to be a part of."
The internship program also includes supplementary experiences like leadership training, mill tours, and team-building exercises to ensure that each class of interns leaves with a well-rounded set of skills to excel in the professional world. This often makes them more hire-able after their internships, regardless of whether they stay with Roseburg.
Last year, Roseburg hired 8 of the 25 interns from the internship program, and the company has a deep pool of team members who started their careers here as interns. Adam Reed, Roanoke Valley Plant Manager, started as an intern, and now he's helping to launch a brand-new flagship lumber mill in North Carolina. "Interning at Roseburg helped me achieve my current role by providing the opportunity to learn hands-on with some of the most advanced people and equipment in the industry. Roseburg gave and continues to give me an incredible opportunity to excel in my career. Their commitment to the community and their core values sets an amazing example."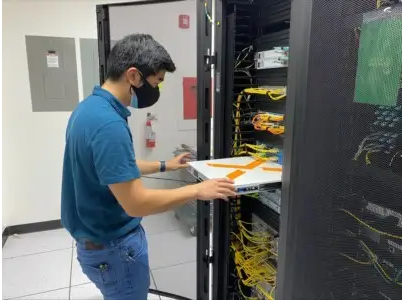 Roseburg believes strongly in the communities in which we work, and we strongly believe in empowering our team members to be the best they can be –from interns all the way up to senior leadership. An internship with Roseburg is more than just an internship; it's a lesson in real life.
Looking to grow your career?
Check out the internship section of the website to learn more! We'd love to have you on the team.
About Roseburg Forest Products
Since 2017, Roseburg has been the largest private timberland owner in the Roanoke Valley area, with nearly 200,000 acres of timberland in North Carolina and Virginia. Logs from that land will feed the new sawmill once it is operational. The 86-year-old privately owned company owns and operates a total of 14 wood products mills across North America, as well as 400,000 acres of timberland in Oregon, where it is headquartered.
Contact:
Rebecca Taylor – Corporate Communications Director – rebeccat@rfpco.com – (541) 679-25614
Source: Roseburg Forest Products Co.