Kingspan Group Announces Director Appointment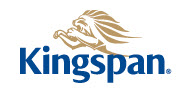 Kingspan Group plc, the global leader in high performance insulation and building envelope solutions, is pleased to announce the appointment of Senan Murphy as an independent Non-Executive Director with effect from 1 October 2022.
Mr Murphy (53) was previously the Group Finance Director of CRH plc. Prior to joining CRH he was Bank of Ireland Group's Chief Operating Officer, having previously held positions as Chief Operating Officer and Finance Director at Ulster Bank, Chief Financial Officer at Airtricity and numerous senior financial roles in GE, both in Europe and the US. Mr Murphy has over 30 years' experience in international business across multiple industries including building materials, renewable energy, financial services and banking.
He is a non-executive director of Bluestar Energy Capital, a US-based global investor in energy transition and renewable energy. He is also a member of the UCD College of Business Irish Advisory Board.
Mr Murphy does not hold any shares in the Company. There are no disclosures required to be made pursuant to Rule 6.1.66 (2) to (6) of the of the Euronext Dublin Listing Rule Book II and UK Listing Rule 9.6.13.
Contact:
Lorcan Dowd – Company Secretary – + 353 (0) 42 969 8000
Source: Kingspan Group plc