CRH plc Issues Interim Results for the Six Months Ended 30 June 2022

CRH plc, the global leader in building materials solutions, issues the following Interim Results for the six months ended 30 June 2022.
Key Highlights
Positive first-half performance; further growth in sales & EBITDA
Margin ahead despite significant inflationary headwinds
Reflecting the resilience of our business & our integrated solutions strategy
Year-to-date acquisition spend $2.8bn including Barrette Outdoor Living
Efficient & disciplined reallocation of $3.8bn Building Envelope divestment
Strong & flexible balance sheet; significant optionality for future value creation
Increasing cash returns; interim dividend +4% & ongoing share buybacks
Full-year EBITDA to be c. $5.5bn (2021: $5.0bn) in a challenging cost environment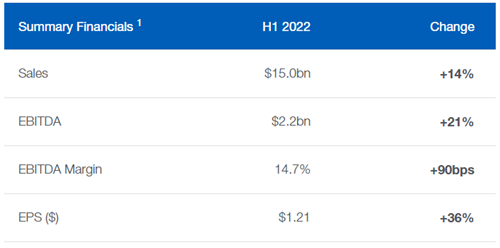 Albert Manifold, Chief Executive, said today:
"CRH has delivered another strong performance with further growth in sales, EBITDA and margin despite a challenging and volatile cost environment. This performance reflects the continued execution of our integrated and sustainable solutions strategy. Looking ahead, despite some continued cost headwinds, the strength of our balance sheet and resilience of our business leaves us well positioned to deliver superior value for all our stakeholders."
Announced Thursday, 25 August 2022
1 Current and prior year trading information is presented on a continuing operations basis, excluding the results of the Building Envelope business which was divested in April 2022 and has been classified as a discontinued operation.
For the complete press release, click here.
About CRH plc
CRH (LSE: CRH, ISE: CRG, NYSE: CRH) is the leading building materials business in the world, employing c.79,000 people at c.3,100 operating locations in 30 countries. It is the largest building materials business in North America, a leading heavyside materials business in Europe and has positions in both Asia and South America. CRH manufactures and supplies a range of integrated building materials, products and innovative solutions which can be found throughout the built environment, from major public infrastructure projects to commercial buildings and residential structures. A Fortune 500 company, CRH is a constituent member of the FTSE 100 Index, the EURO STOXX 50 Index, the ISEQ 20 and the Dow Jones Sustainability Index (DJSI) Europe. CRH's American Depositary Shares are listed on the NYSE. For more information visit www.crh.com.
Contact:
Tom Holmes – Head of Investor Relations – 404 1000 (353 1 404 1000)
Source: CRH plc