PotlatchDeltic and CatchMark Complete Merger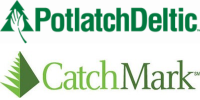 PotlatchDeltic Corporation ("PotlatchDeltic") announced the successful completion of the previously announced merger of CatchMark Timber Trust, Inc. ("CatchMark") with PotlatchDeltic in an all-stock transaction, creating a leading integrated timber REIT. All closing conditions have been met.
The combination brings together two high quality timberland REITs resulting in PotlatchDeltic owning nearly 2.2 million acres of diversified timberlands, including 626,000 acres in Idaho and over 1.5 million acres in strengthening markets in the U.S. South. PotlatchDeltic also remains the timber REIT with the most leverage to lumber prices, including 1.1 billion board feet of lumber capacity. The transaction also combines two successful and complementary real estate businesses.
"The completion of the CatchMark merger diversifies our timberland ownership into some of the strongest markets in the U.S. South," said Eric Cremers, president and chief executive officer. "The work to integrate the two companies and realize our synergy target starts immediately. We are excited about leveraging the financial and strategic benefits of the transaction to continue growing shareholder value over the long term," stated Mr. Cremers.
PotlatchDeltic also announced that James DeCosmo, who served on CatchMark's board since 2020, became a PotlatchDeltic director effective with the merger close. PotlatchDeltic's board now consists of 10 directors.
In accordance with the terms of the merger agreement, each outstanding share of CatchMark common stock immediately prior to the merger converted to the right to receive 0.23 shares of PotlatchDeltic common stock. In total, approximately 11.5 million shares of PotlatchDeltic common stock will be issued to CatchMark shareholders, representing approximately 14 percent of total shares outstanding.
In conjunction with the merger, PotlatchDeltic refinanced $277.5 million of CatchMark's debt and repaid another $22.5 million of such debt.
About PotlatchDeltic
PotlatchDeltic (Nasdaq: PCH) is a leading Real Estate Investment Trust (REIT) that owns nearly 2.2 million acres of timberlands in Alabama, Arkansas, Idaho, Georgia, Louisiana, Mississippi and South Carolina. Through its taxable REIT subsidiary, the company also operates six sawmills, an industrial-grade plywood mill, a residential and commercial real estate development business and a rural timberland sales program. PotlatchDeltic, a leader in sustainable forest practices, is committed to environmental and social responsibility and to responsible governance. More information can be found at www.potlatchdeltic.com.
Contact:
Jerry Richards – Investor Relations – (509) 835-1521
Source: PotlatchDeltic Corporation