Simpson Manufacturing Co., Inc., Announces 2022 Third Quarter Financial Results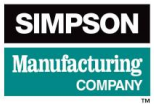 Simpson Manufacturing Co., Inc. (the "Company"), an industry leader in engineered structural connectors and building solutions, today announced its financial results for the third quarter of 2022. Refer to the "Segment and Product Group Information" table below for additional segment information (including information about the Company's Asia/Pacific segment and Administrative and All Other segment).
Beginning in 2022, the Company changed its presentation for both the North America and the Administrative and all other segment's statement of operations to display allocated expenses and management fees as a separate item below income from operations. During 2021, allocated expenses and management fees between the two segments were previously included in operating expenses and in income from operations and have been adjusted herein to conform to the 2022 presentation. Consolidated income from operations, income before tax and net income for all periods presented below are not affected by the change in presentation.
All comparisons below (which are generally indicated by words such as "increased," "decreased," "remained," or "compared to"), unless otherwise noted, are comparing the quarter ended September 30, 2022, with the quarter ended September 30, 2021 and include the results of the acquisition of FIXCO Invest S.A.S ("ETANCO") on April 1, 2022.
2022  Third Quarter Financial Highlights
Consolidated net sales of $553.7 million increased 39.6% from $396.7 million.

North America net sales of $437.8 million increased 29.3% from $338.6 million, mostly due to product price increases throughout 2021 in an effort to offset rising raw material costs, as well as higher sales volume.
Europe net sales of $111.9 million increased 104.1% from $54.8 million, primarily due to the acquisition of ETANCO, which contributed $67.5 million in net sales, along with product price increases, mostly offset by lower volumes and the negative effect of approximately $7.9 million in foreign currency translation.

Consolidated gross profit of $244.5 million increased 23.5% from $198.0 million. Gross margin decreased to 44.2% from 49.9%.

North America gross margin decreased to 47.5% from 52.1%, primarily from higher raw material costs, factory and overhead and labor, as a percentage of net sales, partly offset by product price increases throughout 2021.
Europe gross margin decreased to 31.5% from 37.7%. Europe gross profit of $35.2 million included $19.4 million from the acquisition of ETANCO, which is net of a non-recurring $2.9 million in fair-value adjustments for inventory costs as a result of purchase accounting.

Consolidated income from operations of $122.8 million increased 22.1% from $100.6 million. The increase was primarily due to the increase in consolidated gross profit, partly offset by higher operating expenses, including $15.7 million attributable to ETANCO, and $1.9 million for integration costs also related to ETANCO. Consolidated operating margin decreased to 22.2% from 25.4%.

North America income from operations of $127.3 million increased $27.1 million from $100.2 million. The increase was primarily due to higher gross profit with operating expenses nearly flat.
Europe income from operations of $6.1 million decreased $1.4 million from $7.5 million. This includes ETANCO's operating income of $1.8 million which is net of $2.9 million in inventory adjustments as noted above, $4.2 million of amortization expense on acquired intangible assets and $1.9 million for integration costs for a total of $9.0 million. The Company continues to work on integrating ETANCO into its operations. Plans have been developed to realize the Company's previously identified synergies in the years ahead which will result in additional costs in 2022 and 2023. The Company remains well positioned to capture meaningful benefits from the synergies, subject to changing macroeconomic circumstances, which will delay some of the synergy opportunities.

Net income was $88.2 million, or $2.06 per diluted share of the Company's common stock, compared to net income of $73.8 million, or $1.70 per diluted share. Net income for the quarter ended September 30, 2022, includes $3.0 million of net interest expense primarily on the Company's borrowings for its acquisition of ETANCO.
Cash flow provided by operating activities increased approximately $79.5 million from $40.5 million to $120.0 million, primarily from increases in net income and a decrease in working capital.
Cash flow used in investing activities decreased approximately $4.1 million from $15.0 million to $10.9 million. Capital expenditures were approximately $10.0 million compared to $12.0 million.
Management Commentary
"Solid operational execution against our strategic plan during the third quarter led to continued strong financial results despite the challenging macroeconomic backdrop," commented Karen Colonias, Chief Executive Officer of Simpson Manufacturing Co., Inc. "Positive trends for both volume and pricing led to increased net sales in North America over the prior year quarter, which had lower volume. In Europe, sales benefitted primarily from the contribution from ETANCO, which we have continued to successfully integrate on-track with our internal plan. In addition, we made solid traction during the quarter by advancing our key growth initiatives forward and continuing to educate building industry professionals on the benefits of Simpson's solutions which resulted in key wins for mass timber and building technology."
Ms. Colonias concluded, "I believe the Company is well-positioned to grow and thrive in the years ahead given the strength of our people, culture and values, as well as our diversified portfolio of solutions for our customers. To drive longer-term growth, we are focused on facility upgrades and expansions to ensure we have ample capacity to meet our customers' needs locally as well as to improve our service, production efficiencies and safety in the workplace. I am confident we can continue our above market growth relative to U.S. housing starts in fiscal 2022 and that we can achieve our 2025 Company Ambitions, even when considering softer housing market forecasts."
Corporate Developments
On September 8, 2022, the Company announced that Karen Colonias will step down from her position as Chief Executive Officer as part of Simpson's planned leadership succession, effective December 31, 2022. Simpson's Board of Directors unanimously elected Michael Olosky, 54, current President and Chief Operating Officer, to succeed Ms. Colonias as Chief Executive Officer, effective January 1, 2023. In connection with his promotion, Mr. Olosky will also join the Company's board of directors on January 1, 2023. Ms. Colonias will remain employed as an Executive Advisor to assist with a smooth and orderly transition until her retirement on June 30, 2023. Ms. Colonias will continue to serve as a member of Simpson's board of directors until the 2023 annual meeting of stockholders.
During the third quarter of 2022, the Company repurchased 308,500 shares of common stock in the open market at an average price of $91.67 per share, for a total of $28.3 million. As of September 30, 2022, approximately $25.4 million remained available for repurchase under the Company's previously announced $100.0 million share repurchase authorization (which expires at the end of 2022).
On October 21, 2022, the Company's Board of Directors (the "Board") declared a quarterly cash dividend of $0.26 per share, estimated to be $11.1 million in total. The dividend will be payable on January 26, 2023, to the Company's stockholders of record on January 5, 2023.
Business Outlook
The Company has updated its 2022 financial outlook based on three quarters of financial information, which includes the acquisition of ETANCO, to reflect its latest expectations regarding demand trends, raw material costs and operating expenses. Based on business trends and conditions as of today, October 24, 2022, the Company's outlook for the full fiscal year ending December 31, 2022 is as follows:
Operating margin is expected to be in the range of 20.0% to 21.0%, in-line with its more recent historical average as the Company has better visibility on raw material costs and expected results from its acquisition of ETANCO. The revised outlook includes $16.0 to $18.0 million in expected integration and transaction costs for the acquisition.
Interest expense on the outstanding $250.0 million Revolving Credit Facility and Term Loans, which had initial borrowings of $450.0 million, is expected to be approximately $9.8 million, including the benefit from interest rate and cross currency swaps mitigating substantially all of the volatility from changes in interest rates.
The effective tax rate is expected to be in the range of 25.0% to 26.0%.
Capital expenditures are expected to be in the range of $55.0 million to $65.0 million.
For the full third quarter results, click here.
About Simpson Manufacturing Co., Inc.
Simpson Manufacturing Co., Inc., headquartered in Pleasanton, California, through its subsidiaries, including Simpson Strong-Tie Company Inc., designs, engineers and is a leading manufacturer of wood construction products, including connectors, truss plates, fastening systems, fasteners and shear walls, and concrete construction products, including adhesives, specialty chemicals, mechanical anchors, powder actuated tools and reinforcing fiber materials. The Company primarily supplies its building product solutions to both the residential and commercial markets in North America and Europe. The Company's common stock trades on the New York Stock Exchange under the symbol "SSD." Copies of Simpson Manufacturing's Annual Report to Stockholders and its proxy statements and other SEC filings, including Annual Reports on Form 10-K, Quarterly Reports on Form 10-Q and Current Reports on Form 8-K, are made available free of charge on the company's web site on the same day they are filed with the SEC. To view these filings, visit the Investor Relations section of the Company's web site at ir.simpsonmfg.com.
Source: Simpson Manufacturing Co., Inc.