Hancock's Leadership Team Has Expanded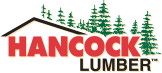 With exciting growth and expansion over the past few years, our teams have also been scaling up to support our businesses. Most recently, we have expanded our executive team by one position, adding a full-time Chief Financial Officer.
Florian Knappe joins the Home Office executive team, and will be focused on the financial, legal, technological, and structural aspects of the company. Born in Germany, Florian has an extensive geographical and financial background, having held several executive leadership roles in Europe and the US. Additionally, he has building products experience having been CFO for a Maine based deck manufacturer. Most recently he served as the Director of Finance for Maine Technical Source, serving surveyors, engineers, and commercial contractors.
"Florian's arrival expands the capacity of our senior executive team from two people to three. This is an intentional investment designed to support the continued growth and expansion of our company. Florian, Paul, and I are excited about our refined roles and the opportunity it creates to increase our focus on our employees, customers, and the future." – Kevin Hancock
With Florian's arrival, Paul Wainman will transition from President and CFO to President and CEO. Kevin Hancock will transition from CEO and Chairman to Chairman.
Source: Hancock Lumber Company, Inc.