McCoy's Building Supply Purchases Land for New Retail Location in Lubbock
McCoy's Building Supply finalized the purchase of 7.5 acres of land in Lubbock, TX this past summer and recently broke ground with a goal of opening the new store this year. The location near Academy Sports & Outdoors at Quaker Avenue and 122nd Street will provide customers easy access to the future store.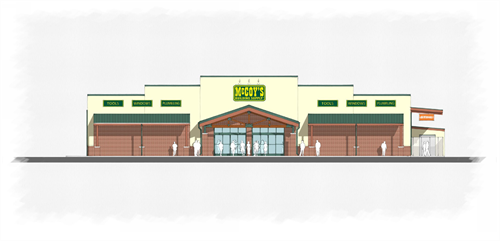 "We had stores in Lubbock from 1971-1995 and are so excited to be coming back. Lubbock holds a special place in my heart as my dad (retired CEO Brian McCoy), aunt and uncles all attended Texas Tech," said Reid McCoy, Board Vice-Chair. "We currently serve several Lubbock builder customers through our Plainview location and are really looking forward to serving builders and retail customers in Lubbock directly."
"The southern part of Lubbock has been growing rapidly for several years and we are looking forward to serving home improvement customers in the area," said Phil Hutchinson, Real Estate Manager. "We are proud to partner with Graco Development and to be a part of another one of their quality retail destinations in Lubbock." The City of Lubbock and the City Planning staff also provided key guidance throughout the zoning and permitting process.
"At McCoy's, we're proud to be family-owned and operated, and we're proud of the facility we're bringing to Lubbock – it will be one of the finest stores in our company," said Meagan McCoy Jones, President and CEO. "Even more, we're proud of the team at McCoy's who is eager to serve the people of Lubbock with our signature McCoy's style."
McCoy's Building Supply stores carry high-quality building materials for a wide range of projects to serve the building trades and DIY customers alike. The future Lubbock store will have a large, covered, drive-thru lumberyard and a fleet of forklifts and delivery trucks paired with the interior retail area, arranged according to McCoy's distinctive easy-in, easy-out design and will offer tools, paint, household essentials and more.
Source: McCoy Corporation