Madison's Reporter: Lumber Demand Remains Soft for the Time of Year

As April waned, the usual spring buying of construction framing softwood lumber had not yet materialized. Suppliers had plenty of inventory on hand for customers who continued to only order wood for immediate needs. As such, supply remained quite ahead of demand. Even as the days got progressively longer and the weather improved, there did not seem to be a boom in home building, as has been historically normal. As such, the recent and ongoing production curtailments — especially in British Columbia — helped keep sawmill order files to within two or three weeks.
Check back with the Madison's website www.madisonsreport.com regularly to be informed of what to look for next.
In the week ending April 28, 2023, the price of benchmark softwood lumber item Western Spruce-Pine-Fir 2×4 #2&Btr KD (RL) was US$360 mfbm, which is flat from the previous week, said weekly forest products industry price guide newsletter Madison's Lumber Reporter. This is down by -$13, or -3%, from one month ago when it was $373.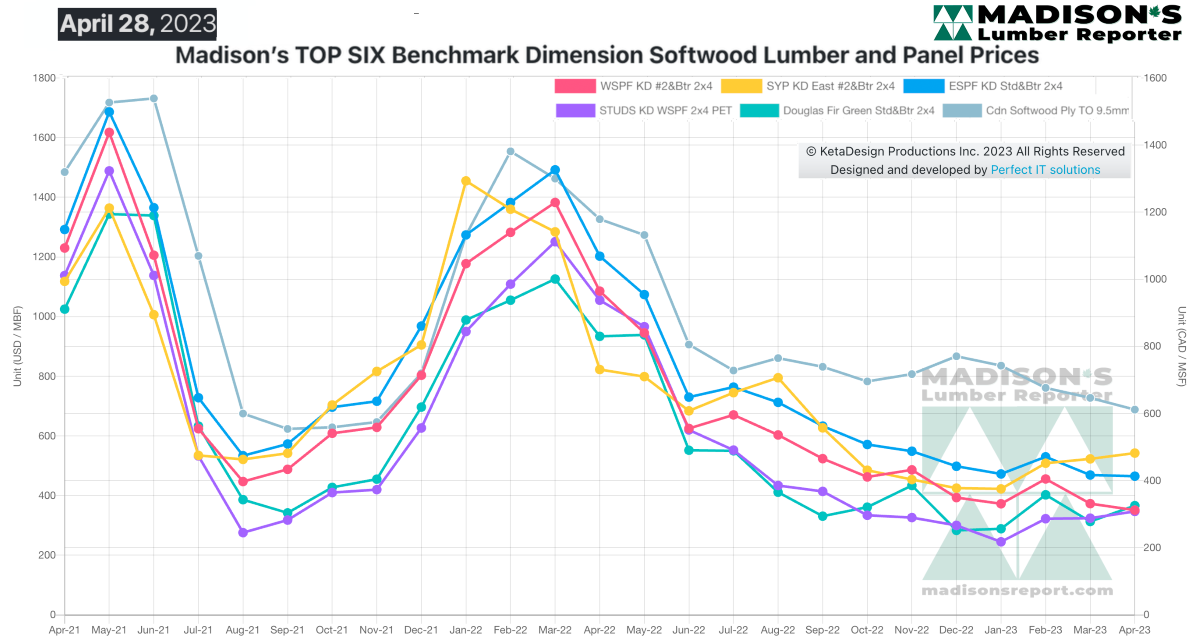 Good takeaway of low-grade commodities persisted as industrial customers remained active. A growing contingent of suppliers felt the market was undervalued and poised to go on a run.
"The interminable wait for spring activity to arrive persisted this week. Buyers remained cautious while suppliers chomped at the bit." — Madison's Lumber Reporter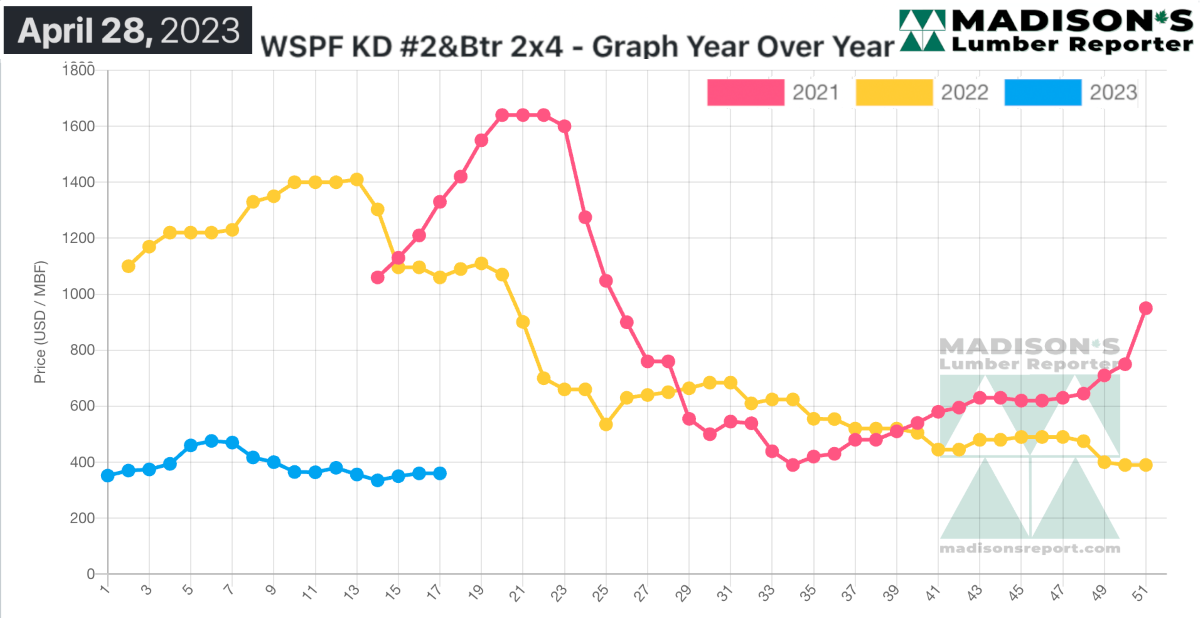 Demand for Western S-P-F in the United States was so-so, to hear traders tell it. Business was heavily region- and product-dependent, with bread-and-butter dimension and stud items garnering the lion's share of demand. Experienced players wondered whether sawmills might consider cutting the odd shift to pull material out of what many referred to as an oversupplied market. Downstream buyers were content with replenishing through the distribution network and still showed no urgency to cover more than immediate needs.
According to Canadian purveyors, the Western S-P-F market continued to struggle to reach typical spring price levels. Prices stabilized further, with nearly all dimension commodities remaining at or on either side of the previous week's numbers. Notable exceptions were found in straight length 2x10s, several of which came back down to earth in triple-digit tumbles. Secondary suppliers noted that the market seemed oversupplied still, even if availability was largely hit-and-miss depending on the source and item. Spring had sprung for the most part, but weather continued to be an issue in some key consuming regions. Buyers were fond of leaning on LTL and mixed load business through the distribution network when they needed coverage.
Sales of Eastern S-P-F started the week on shaky ground before finding firmer footing. Demand was fair to middling, with most sales activity going to secondary suppliers who offered flexible tallies and quick shipment. One veteran trader noted that every deal was a unique challenge as orders did not come easy. While prices of studs and low grade firmed up in both the Great Lakes and Toronto markets, R/L #2&Btr dimension was comparatively listless. A better tone emerged around midweek when buyers sensed a change in the wind and started to secure more coverage. Sawmill order files were no further than two weeks out." — Madison's Lumber Reporter
Madison's Benchmark Top-Six Softwood Lumber and Panel Prices: Monthly Averages

Compared to the same week last year, when it was US$1,060 mfbm, the price of Western Spruce-Pine-Fir 2×4 #2&Btr KD (RL) for the week ending April 28, 2023 this price was down by -$700, or -66%. Compared to two years ago when it was $1,330, that week's price is down by -$970, or -73%.
About Madison's Lumber Reporter
Established in 1952, Madison's Lumber Prices is your premiere source for North American softwood lumber news, prices, industry insight, and industry contacts. The weekly Madison's Lumber Reporter publishes current Canadian and US construction framing dimension lumber and panel wholesaler pricing information 50 weeks a year and access to historical pricing as well.
Contact:
Keta Kosman – Publisher, Madison's Lumber Reporter – (604) 319-2266 – https://madisonsreport.com/
Source: Madison's Lumber Reporter