Obituary: Donald Neil Hagen
In the early morning of May 16, while surrounded by family, Donald "Neil" Hagen succumbed to injuries sustained in a fall at his home the day before.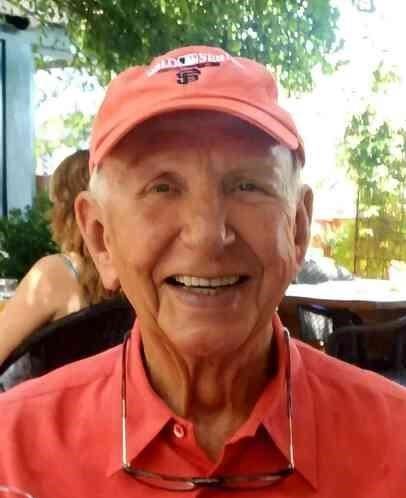 Neil was born and raised in Oroville, CA, and held the distinction of being the last surviving man of the Oroville High School Class of 1947. He grew up in a loving family with parents Nils Lien Hagen from Norway and Agneta Caroline Andersen from Denmark, along with his younger brother Robert.
From a young age, Neil exemplified a strong work ethic. At age 12, he managed two paper routes, and by 15, he was already overseeing Kelly's Stationery store after school. He also worked seasonally in the fruit processing plants. In the summers, he and his championship football team spent about a month camping in the Buttes, clearing invasive plants, and reducing fire risk, which provided him with gas money for his beloved Florentine Blue Ford. He swam in the Feather River whenever he could. On one hot day while crossing the river with the other paperboys, his legs cramped up, but luckily, he was spotted and rescued by the glamorous lifeguard Glennis (who happened to be engaged to a young pilot, Chuck Yeager).
Neil's academic journey led him to Stanford University on a football scholarship, back when they wore leather helmets. After a year at Stanford, he joined the Navy as a sonarman and toured the Mediterranean. Utilizing the GI Bill, he continued studies at Chico State, while also selling Kirby vacuums door-to-door (very successfully!). In 1954, he returned to the Navy and trained as a pilot on the USS Shangri-La. He completed his business degree at Sacramento State and took a job as a sales manager for Ostin Moulding in Sacramento.
In 1957, he married Bette (Hoshall). He instantly gained Bette's daughters Marilyn, Michael Ann, and Danny Lee. Together, Neil and Bette added two more children to their family, a son, Neil Eric, and a daughter, Kristen.
For several years in the 1960s, Neil worked at R.F. Nikkel Lumber before starting his own company, Eagle Forest Products, in the early 1970s. In 1971, he married Bernice (Evans) and they had a son, Matthew. They settled in Fair Oaks, CA and Neil continued to build his business as a manufacturer and supplier of building materials to Kmart. His Viking spirit drove him to continue expanding his business into Thunderbird Moulding Company.
During an early 1980s hardware trade show, Bernie Marcus approached Neil with a request to supply millwork for a chain he was starting. On a handshake, Neil began a 20+ year relationship, providing mouldings to over 800 Home Depot stores nationwide as well as 84 Lumber, Hechingers, Ace and True Value stores through another of his businesses, American Forest Products, headquartered in Baltimore. Neil was at the helm with Neil Eric, and eventually Matthew, at his side and soon he had more than a dozen mills in the US and around the world, including Northern California, Louisiana, Virginia, South Carolina, Brazil, Chile, and New Zealand. He also had over a million square feet of distribution in the US.
In 1992, he opened a retail store in front of his Thunderbird Forest Products mill on Power Inn Road which he named Mr. Moulding. As he said, "It worked well for Mr. Coffee!" He convinced Kristen to join the family business at Mr. Moulding in 2014 and he enthusiastically explored the retail side of the industry. He drove himself to the store daily to mentor Kristen in the "War Room" ("to plot the demise of the enemy!"), to chat with customers, and make bank runs. He never considered retirement and hoped to open at least 10 more stores.
Neil was an avid sports fan and season ticket holder for both the 49ers (his favorite) and Raiders football, Sacramento Kings basketball, and Giants baseball. In 1962 Neil, Bob Nikkel, Woody Ames, and Jack McKenzie were going to a Giants game. Bob Nikkel said a friend of his who owned a liquor store, Earl Camp, wanted him to go visit a winery named Martin Ray Vineyards in the Santa Cruz Mountains. It would not end up being the quick stop they had planned. As they arrived, Martin, a very large, boisterous man came out of his house and rang a huge bell in honor of their arrival. They were invited in and after many hours of drinking wine, both out of bottles and barrels, the four of them ended up owning a 5-acre parcel of Martin Ray's winery. They didn't make it to the baseball game. Eventually the parcel was named "The Nikkel vineyard", that was Neil's entry into the wine business. Neil eventually bought a majority interest in what is now known as Mount Eden Vineyard, which produces world class wines.
At the age of 40, Neil stopped smoking (a habit from the Navy) and seriously focused on his health and fitness. Already a life-long snow skier and certified scuba diver, he started jogging around Fair Oaks and the American River trail. When his knees tired of running, he joined a gym, lifted weights, swam, and rode a recumbent bike, which he continued to do almost daily at Arden Hills until earlier this year. The exercise kept him fit for traveling and allowed him to indulge, with Bernice, in fine foods and wine. Together, they were members of The Knights of the Vine. Neil also loved a cold beer with a bratwurst or a meatloaf sandwich, savored scalding hot black coffee and delighted in a well-made Negroni.
Neil was curious and learned about everything he could. He read anything he could get his hands on and, when his eyesight faltered, he would listen to audiobooks on his iPad. With his MacBook and the latest iPhone, he never hesitated to call friends or family, cherishing every opportunity to catch up.
To say his life was cut short at 93 seems odd but, thanks to his new knee last year, he had several trips planned this year to France, New Zealand, and to visit extended family in Norway. He loved life and hoped to "stick around because I'm having too much fun!"
Neil was preceded in death by his parents, his sisters Agnes, and Ruth in Norway, and his "kid brother" Bob. He is survived by his wife of 52 years, Bernice, all his children, six grandchildren, six great-granddaughters, and many nieces and nephews in Salt Lake, the East Coast, Norway, and Sweden.
Neil was loved by all and leaves behind a meaningful legacy. While not as graceful as he would have imagined, he had a quick exit, which is just how he would have wanted it.
In lieu of flowers, please consider a gift to the SMUD Museum of Science and Curiosity (MOSAC), visitmosac.org/support. After which, have a glass of wine, read a book, and call a friend.
A celebration of life is planned for later this summer.
Source: Legacy.com