PPG's New Paint for a New Start Initiative Transforms School in Suriname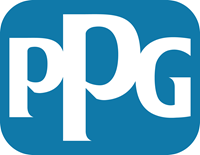 PPG (NYSE:PPG) today announced that it has completed a colorful and transformative makeover at the OS Skroetjie primary school in Nickerie, Suriname, through its global New Paint for a New Start initiative, part of the company's COLORFUL COMMUNITIES® program. The project brought together 60 volunteers consisting of PPG employees, customers, teachers and members of the local community, who painted the school with a fresh new color scheme.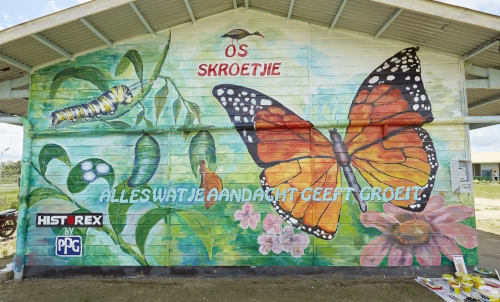 The company provided around 265 gallons (1,000 liters) of HISTOREX™ paint by PPG, including Historex Aqua-Lak wear-resistant paint, to create a colorful space for the school's 200 students and 26 teachers. PPG experts chose colors from a special palette that pair with specific learning objectives and local, cultural influences. The exterior of the school was painted with Vining Ivy, the PPG 2023 Color of the Year.
The school's facade was decorated with a mural designed by local visual artist Wikaas Girdharie, which shows a caterpillar turning into a Monarch butterfly under the watchful eye of a skroetjie, the black-bellied duck from which the school gets its name. "The subject matter is very important," Girdharie said. "The metamorphosis symbolizes the growth of the school children into mature individuals."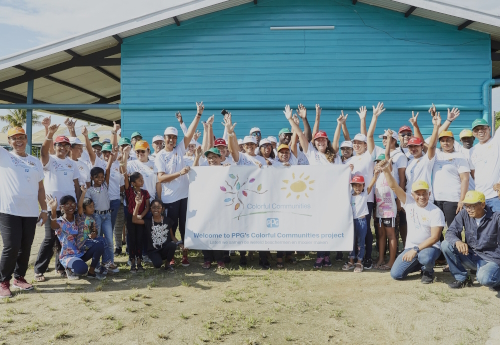 "Everyone has done a great job," said Sharita Ramdas-Autar, head teacher of the OS Skroetjie school. "The roof had leaks, ceilings and walls were not good. This has all been addressed by PPG, so on October 1 we will have a very good start with a cheerful environment where everyone can enjoy coming to school."
In the second year of New Paint for a New Start, PPG employees around the world are volunteering their time throughout the months of June, July and August to transform more than 25 schools. Using PPG paint products and color expertise, each project aims to create engaging spaces for students to learn and grow.
"We are pleased that the company can provide support to schools like OS Skroetjie through the Colorful Communities program," said Ramesh Dwarkasing, PPG director, Suriname, Architectural Coatings. "Painting is beautiful, but if you give a broken building a color, it might be beautiful for a few months and then it's nothing. So, we're tackling it thoroughly."
The Colorful Communities program, PPG's signature initiative for supporting communities, aims to protect and beautify the neighborhoods where PPG operates around the world. Through the Colorful Communities program, PPG's committed volunteers contribute their time and PPG paint products to help transform community assets – from painting classrooms to bringing color to a maternity ward and redesigning a playground. Since 2015, PPG has completed more than 470 Colorful Communities projects, impacting more than 8.2 million people in 50 countries.
PPG's global community engagement efforts and the PPG Foundation aim to bring color and brightness to PPG communities around the world. We invested $16.2 million in 2022, supporting hundreds of organizations across more than 35 countries. By investing in educational opportunities, we help grow today's skilled workforce and develop tomorrow's innovators in fields related to coatings and manufacturing. Plus, we empower PPG employees to multiply their impact for causes that are important to them by supporting their volunteer efforts and charitable giving. Learn more at communities.ppg.com.
About PPG Industries
At PPG (NYSE: PPG), we work every day to develop and deliver the paints, coatings, and specialty materials that our customers have trusted for 140 years. Through dedication and creativity, we solve our customers' biggest challenges, collaborating closely to find the right path forward. With headquarters in Pittsburgh, we operate and innovate in more than 70 countries and reported net sales of $17.7 billion in 2022. We serve customers in construction, consumer products, industrial and transportation markets, and aftermarkets. To learn more, visit www.ppg.com.
Contact:
Andrew Wood – Corporate Communications – awood@ppg.com – +31 6 5121 6579
Source: PPG Industries, Inc.