Wellborn Cabinet: A Home for a Hero

Wellborn Cabinet, Inc. is excited to announce that the construction for the "Hero Home" is complete! This home is packed full of Wellborn Cabinet's Active Living product, allowing every part of the wounded warrior's home to be accessible. In the next few weeks, this amazing hero will get to move into his brand new, accessible home tailored just to him!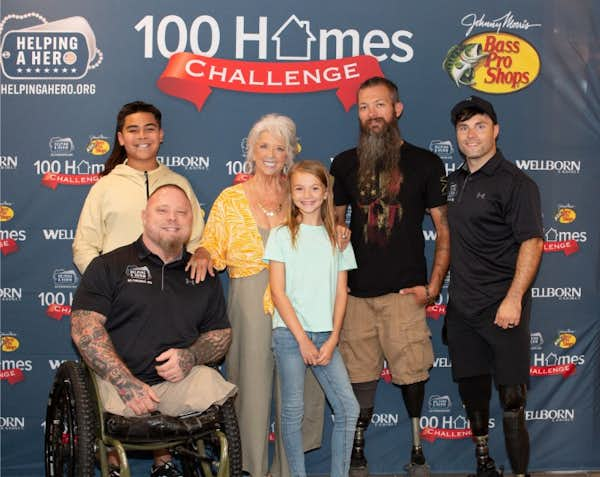 On August 31st, Wellborn Cabinet hosted an event at the home. The event featured special veteran guests and also featured Tate Stevens and Paula Deen! This open house event showcased all the incredible and accessible cabinets inside the home, allowing this amazing vet and others to see what he'd be able to do with a home tailored to him and his needs.
Thanks to the attendance of our special veteran guests, Wellborn Cabinet was able to demonstrate just how accessible our cabinetry really is for those with physical challenges. Of course, our special veteran guests also demonstrated their baking skills when they utilized the accessible kitchen to bake a delicious cake with Paula Deen!
Paula Deen and her husband, Michael, work alongside the Helping a Hero Foundation as ambassadors and are proud to be able to bring attention to wounded warriors and their needs. Michael told us that, "People tend to forget that an injured vet also has a family. He still wants to be able to provide for that family and care for them. Having a home like this makes that easier."
Tate Stevens is also a Helping a Hero Foundation ambassador and performed at the Wellborn Cabinet event that day. He said he doesn't see the home as charity. "I always say that this isn't a handout…it's a hand up."
Wellborn Cabinet, Inc. is honored to have been a part of giving Eric and his family that hand up with accessible cabinetry that spans their entire home. We truly hope that this will make Eric's life easier and bring joy to him and his entire family for years to come. Wellborn Cabinet would also like to say a huge thank you to Eric for his service and dedication to our country.
Source: Wellborn Cabinet, Inc.