'Trex Moments Deck Giveaway' Winner Creates Ultimate Outdoor Oasis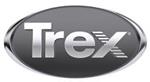 Just over a year ago, Alex and Erin Nye of San Diego entered the "Trex® Moments Deck Giveaway" sweepstakes hosted by Trex Company ("Trex"), the world's largest manufacturer of wood-alternative decking and railing and leader in high-performance, low-maintenance outdoor living products. The couple's witty and heartwarming video entry and creative vision for their outdoor space captivated the team at Trex and earned them the top prize of $10,000 in Trex products. This summer, the lucky winners put the finishing touches on their dramatic Trex transformation.
"We reviewed hundreds of entry videos but the Nye's definitely stood out," explained Leslie Adkins, vice president of marketing and ESG development for Trex Company. "It made us laugh, smile and showcased how a Trex deck can transform a simple yard into something truly extraordinary."
As a competitor on TV's "American Ninja Warrior," Alex wanted to create an epic backyard training ground to share with the entire San Diego Ninja community. The couple also wanted a place where they could relax and entertain family and friends. Referred to as "The Jungle," the renovated outdoor space features a custom-designed 400-square-foot Trex deck that Alex describes as "easily the coolest feature of our home."
To seamlessly blend the deck with the natural surroundings, the Nyes chose Trex® decking in a dark brown and paired it with Trex Transcend® railing in Charcoal Black with crown top rails, round aluminum balusters and post cap lights. The deck was specially designed around a tree that the couple wanted to preserve, which sits at the center of the space and provides both shade and character. Further enhancing "The Jungle" theme, the deck is finished off with distinctive bamboo skirting.
"The creativity that Alex and Erin brought to their vision and the finished outdoor space really captured the spirit of the 'Trex Moments' sweepstakes," noted Adkins. "They created a space where special moments will be made with friends and family for decades to come."
Engineered with a proprietary formulation and a durable integrated shell, Trex composite decking resists stains, scratches and mold. It also won't rot, warp, crack or splinter like wood – and upkeep is hassle-free. No sanding, staining, painting or sealing is ever needed, and spills wash off easily with just soap and water. Sustainably made from 95% recycled and reclaimed materials, Trex decking also contributes to a greener future.
"I've seen firsthand how bad wooden decks can get, including warping, peeling and disintegrating," said Alex. "We're so happy that we won't have to worry about any of that. This deck is going to last a lifetime and give us countless memories with our friends and family."
The Nye's outdoor oasis is showcased on the Trex website. To learn more about Trex and its robust portfolio of outdoor living products, visit Trex.com.
*2023 DISCLAIMER: Trex received the highest numerical score in the proprietary Lifestory Research 2023 America's Most Trusted® Outdoor Decking study. Study results are based on experiences and perceptions of people surveyed. Your experiences may vary. Visit www.lifestoryresearch.com.
About Trex Company, Inc.
For more than 30 years, Trex Company [NYSE: TREX] has invented, reinvented and defined the composite decking category. Today, the company is the world's #1 brand of sustainably made, wood-alternative decking and deck railing – all proudly manufactured in the U.S.A. – and a leader in high performance, low-maintenance outdoor living products. The undisputed global leader, Trex boasts the industry's strongest distribution network with products sold through more than 6,700 retail outlets across six continents. Through strategic licensing agreements, the company offers a comprehensive outdoor living portfolio that includes deck drainage, flashing tapes, LED lighting, outdoor kitchen components, pergolas, spiral stairs, fencing, lattice, cornhole and outdoor furniture – all marketed under the Trex® brand. Based in Winchester, Va., Trex is proud to have been named 2023 America's Most Trusted® Decking Brand* and one of 2022's 50 Best U.S. Manufacturers by IndustryWeek. For more information, visit Trex.com. You may also follow Trex on Facebook (trexcompany), Instagram (trexcompany), Twitter (Trex_Company), LinkedIn (trex-company), TikTok (trexcompany), Pinterest (trexcompany) and Houzz (trex-company-inc), or view product and demonstration videos on the brand's YouTube channel (TheTrexCo).
Contact:
Corinne Racine – L.C. Williams & Associates – cracine@lcwa.com – (312) 565-3900
Source: Trex Company, Inc.