Chuck Churchwell Retires From McCoy's Building Supply After 48 Years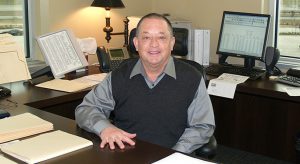 McCoy's Building Supply announced that its longest tenured employee, former CFO and current board of directors member Chuck Churchwell will retire on January 1, 2019 after 48 years with the company.
Chuck, a native of Luling, TX, and graduate of Southwest Texas State University (now Texas State University) started his career with McCoy's working at stores in Austin, TX, and Brazoria, TX. Chuck soon transferred to headquarters where he held several positions in his early years ranging from buyer to personnel manager before taking on major roles in accounting.
McCoy's Building Supply grew, reaching $100 million in sales in 1981 and Chuck grew with it every step of the way —moving from accountant to controller in the mid-80s before becoming chief financial officer (CFO) in the early 90s. Chuck became vice president and CFO in 1993 making him the first non-McCoy named vice president. Impressive growth continued at McCoy's throughout the 90s, including the company reaching a milestone half a billion dollars in sales in 1999.
"McCoy's Building Supply simply wouldn't be where we are today without Chuck. He is one of the most trustworthy, enduring and hardworking leaders our company has ever known. Chuck was always there to support our executive team and me with his willing spirit and intense resolve," says Brian McCoy, CEO. "His embrace of our Business As UnUsual (BAU) training strongly influenced our company culture at a time when we desperately needed to learn how to serve our customers, teams and one another."
In 2001, Chuck was promoted to executive vice president and joined the board of directors working closely with Brian who became CEO and president of McCoy's Building Supply that same year. After ten years of working extensively with BAU trainings, Chuck stepped down from his executive vice president role in 2013 to focus more on his board of directors position.
"Retiring from the company is definitely an emotional time in my life. I have nothing but positive thoughts about the future of McCoy's," says Chuck. "I'm excited about Meagan McCoy Jones's role as president and COO and with Reid McCoy becoming vice chair of the board of directors, McCoy's future is brighter than ever."
Source: McCoy Corporation