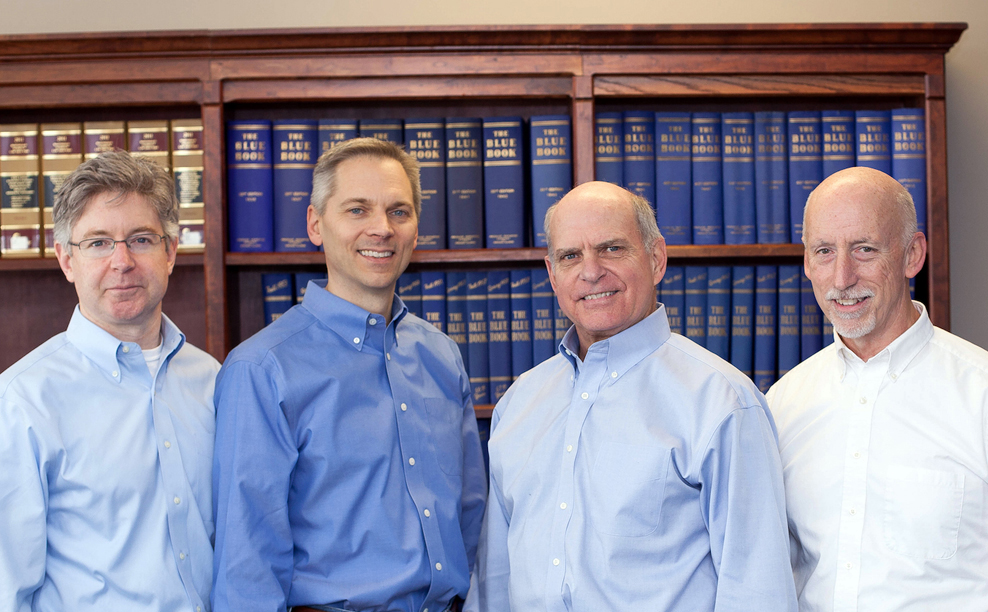 Left to right: Doug Nelson, Mark Erickson, Jim Carr, and Larry McDaniel
Nearly a Century of Experience
Jim Carr, President and CEO
Jim serves as the President and CEO of Blue Book Services, Inc. and is closely involved with all aspects of the organization, ensuring fulfillment of the corporate vision. Through the divisions of the organization, Jim is committed to providing the best resources for businesses to succeed. Jim has an MA in Administrative Sciences from Yale University, and an MA in Religion from Yale Divinity School, New Haven, CT. He has three decades of experience with the organization, serving the fresh fruit and vegetable industry.
Mark Erickson, Sr. Vice President and CIO
Mark oversees Blue Book's information technology, marketing, business development and strategy.  Working closely with the leadership team, Mark's responsibilities intersect with business operations, business processes, product development, corporate branding and strategic positioning.  Mark has an MBA from North Park University, Chicago, IL, and over 25 years' experience with the company, serving both the produce and lumber industries.
Doug Nelson, Vice President, Special Services
Doug serves as Vice President of our Special Services Division which provides trading assistance, collection assistance, and dispute resolution to members. Doug was previously an investigator for the U.S. Department of Agriculture and is an attorney specializing in commercial litigation. Doug graduated with honors from Loyola University of Chicago's School of Law, and has more than 10 years experience serving the fresh fruit and vegetable industry.
Larry McDaniel, Vice President, Finance/Controller
Larry serves as Vice President of Finance and Controller, overseeing all aspects of accounting and finance, as well as internal office services. He earned a BA in Business Economics from Benedictine University, Lisle, IL, and an MBA in Finance from DePaul University in Chicago. Larry has more than 30 years' experience in commercial credit and finance, including over two decades with Blue Book Services in Ratings and Accounting, and five years in commercial banking.