Lumber Blue Book Expands Industry News Alerts
Introducing your Thursday edition
We are pleased to announce that Lumber Blue Book is launching a Thursday edition of its industry news alerts this week.
Industry response to the weekly eNewsletter, rolled out in February, has been very strong.  As a result, industry professionals have found timely, relevant and informative news and analysis in their in-box and online at www.lumberbluebook.com.
Expanding the news alerts to twice each week (Monday and Thursday mornings) is part of Blue Book's commitment to your business success.  It supplements Lumber Blue Book's comprehensive lead generation and credit rating service.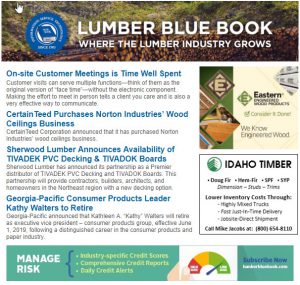 We welcome your feedback and encourage you to forward this to an industry friend so they can subscribe online at www.lumberbluebook.com.