AHF Products Celebrates Grand Opening of New Headquarters
AHF Products hosted a grand opening for its new headquarters in West Hempfield Township in Lancaster, PA, featuring a 'log-cutting' ceremony and tree planting. At the tree planting, Brian Carson, President and CEO, said, "AHF is six months young, and this tree will take root for many years to come… because we are AHF and we create beauty that lasts for generations." In the next few months, AHF will have new products launching in more than 4500 retail locations in the U.S. Many of these products are made in the U.S., and AHF also will be launching new products made in its production facility in Cambodia.
On hand to help celebrate was Champion LumberJill Martha King of Chadds Ford, PA, who demonstrated the underhand chop, singlebuck and stock saw.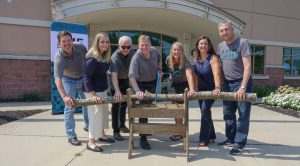 In the Log Cutting photo from AHF Products are:
-John Del Vecchio, VP Information Technology
-Wendy Booker, VP Marketing and Product Development
-Mike Bell, COO
-Brian Carson, President and CEO
-Karen Bradley, VP Human Resources
-Jennifer Zimmerman, General Counsel
-Jeff Steed, CFO
"Lancaster is a special place; we chose to make Lancaster our home. This area continues to grow and be recognized as an area rich with talent. Mountville, in particular, has been a wonderful fit for AHF Products," said Carson. "We have employees travel from six counties in the area to come to work here, and in the Mountville community, we have found the perfect combination of accessibility and community."
The full address is 3840 Hempland Road, Mountville, PA.
About AHF Products
AHF Products is the leader in hardwood flooring with a family of strong brands serving the residential and commercial markets. Hardwood flooring brands include Bruce, Armstrong Flooring, HomerWood, Capella, LM Flooring and Robbins. Headquartered in Lancaster, Pennsylvania with manufacturing operations across the United States, AHF Products employs over 1,700 dedicated team members. www.AHFProducts.com
Contact:
Michele Zelman – Media Contact – michele.zelman@ahfproducts.com – (718) 859-6766
Source: AHF, LLC