Obituary: William H. "Bill" Bauman
William H ("Bill") Bauman, age 65 passed away on Saturday September 21, 2019 at UW Hospital in Madison, WI surrounded by his family after a brief illness. Bill was born on September 30, 1953 in Merrill, Wisconsin, the son of the Lydia and the late Stanley Bauman. He attended St Robert's grade school and graduated from Merrill High School in 1971.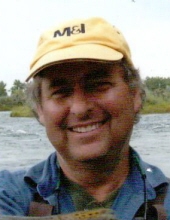 As early as age 13, Bill helped out at Merrill Millwork, the patio door company founded by his dad. He attended and graduated from the UW-Milwaukee in 1982 with a degree in Film and Art. Bill was a very creative person and a talented artist. This artistry transitioned to product design when he decided to step back into the family business. At Merrill Millwork his innovations and patented part designs brought the company up to speed in a changing market.
Bill was admired and loved by his business associates and employees. According to his family Bill worked twice as hard to make things a lot or even a little easier for others, both at work and at home. He was an all-around great guy.
Bill was smart, quick witted with a wonderful quirky sense of humor, positive attitude and ever present smile. This was true even in the face of the many challenges in his life. He was an eternal optimist.
Bill enjoyed golfing, fishing, classic movies, trips out west too and loved the ocean in Florida. He designed and built, with the help of friends, a log cabin on the Haymeadow Creek. It was one of his favorite places where he enjoyed trout fishing and deer hunting with family and friends.
Bill was very close to his family and will be remembered as a wonderful dad and grandpa. He was always there for his children, family and friends unconditionally.
He will be sadly missed by his mother, Lydia Bauman of Merrill; fiancé, Judy McFarland of Manitowish Waters; daughter, Tori Bauman (Ben Asmundsen) of Merrill; sons, Nick Bauman of Merrill, Alex (Bobbie) Carlson of Merrill and Lee (Liza) Carlson of Wausau; Judy's daughter, Olivia McFarland of Manitowish Waters; four grandchildren, Remy Bauman, and Stanley, Lola and Aubrey Carlson; and sisters, Ann (Stephan) Bauman-Kunz of Minocqua and Mary Bauman (Dan Jackson) of Gleason. Bill was preceded in death by his father, Stanley 'Pee-Wee' Bauman.
The Mass of Christian Burial will be celebrated at 11:00 A.M. Friday, September 27, 2019 in the Holy Cross Chapel at Bell Tower Residence, Merrill. Father James Bartelme will preside. Burial will take place in St. Francis Xavier Catholic Cemetery, Merrill. A visitation will be held on Thursday, September 26, 2019 from 4:00 P.M. until 7:00 P.M. at the Taylor-Stine Funeral Home, Merrill.
Source: Taylor & Stine Funeral Home & Cremation Services