Georgia-Pacific Completes $135 Million State-of-the-art Lumber Facility in Warren County, Georgia
Georgia-Pacific celebrated the official opening of its newest lumber facility with an onsite dedication in Warren County, Georgia. The $135 million, 340,000-square-foot technologically advanced lumber production plants its flag on the same site as an existing lumber mill. The new facility currently adds more than 80 workers to the existing workforce, employing a total of 179 full-time employees.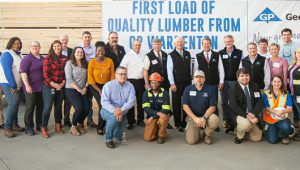 To celebrate, Georgia-Pacific held a dedication on facility grounds with prominent local and state government leaders, along with community members for local remarks. Among the guests were Georgia Governor Brian Kemp, Secretary of Agriculture Gary Black, and Commission Chairman John Graham. Georgia-Pacific was also proud to host Rep. Jody Hice and his guest, World War II veteran, Master Sergeant Luciano "Louis" Graziano.
"Our Georgia-Pacific plant in Warren County already had many great employees. I'm proud that we could invest in this lumber facility and add more than 80 new jobs to the local workforce," said Georgia-Pacific President and CEO Christian Fischer. "It was an honor to share this dedication with Governor Kemp and our many distinguished guests, along with our community friends and neighbors."
Georgia represents a significant state for Georgia-Pacific's operations. The company currently employs more than 7,200 people at 15 locations. Those jobs create an additional 21,000 indirect jobs. Since 2013 the company has invested approximately $1.6 billion in additional capital and acquisitions in the state.
Governor Kemp commented, "It is exciting to see a great, Georgia-made company like Georgia-Pacific expanding in Warren County. This new lumber facility benefits hardworking Georgians and their families in the region, and I am grateful for Georgia-Pacific's continued investment in the Peach State. I look forward to working with Georgia-Pacific in the years ahead as they continue to expand the forestry industry and create opportunity in rural communities across Georgia."
At the rate of current production, the GP Warrenton facility will receive approximately 200 truckloads of pine logs a day and produce as much as 350 million board-feet of lumber per year. The facility plans to outturn three times the output of the previous facility, shipping 57 trucks of lumber each day to locations and customers across multiple states.
"GP values the relationship we have with Warren County, Warrenton, and the economic development authority. This new state-of-the-art facility lets us continue to serve our customers lumber needs," said Fritz Mason, president and general manager of Georgia-Pacific Lumber.  "Warrenton and Warren County are great neighbors and have been supportive partners through this process."
The opening of the new softwood production facility is already making an impact through contributions to the local economy. According to Dr. Wes Clarke at the University of Georgia Carl Vinson Institute of Government, the construction activity had a positive local economic impact of contributing more than $28 million to Warrenton and Warren County.
"Georgia Pacific has exceeded our expectations with their investment of financial resources and talent in this facility. The expansion not only provides many new jobs for our citizens but also improves the skill level of the area's workforce," says O.B. McCorkle, executive director of the Warren County Economic Development Authority. "We look forward to growing together for many years to come."
The Warrenton facility follows the start-up of Georgia-Pacific's Talladega, Alabama, lumber facility last year and is the second of three new lumber production sites planned by the company. The third facility is under construction in Albany, Georgia, with plans to open next spring.
Source: Georgia-Pacific, LLC