National Lumber Expands Into the South Shore of Massachusetts
The National Lumber Family of Companies has expanded its presence in New England with the opening of its 10th lumberyard location on Route 27 in Kingston, Massachusetts. Overseen by Manager Scott Redfield, this location extends their delivery reach in the South Shore and throughout Cape Cod. The lumberyard is open for business weekdays 6:30am to 5pm and deliveries are going out daily, starting at 6:00am. National Lumber's extensive delivery fleet provides prompt, precise deliveries with boom trucks, flatbeds with mounted forklifts, and box trucks. This 6-acre facility at 118 Pembroke St was previously occupied by Gypsum Specialists and National Lumber will continue to service drywallers, as well as builders and contractors, with outside sales representatives.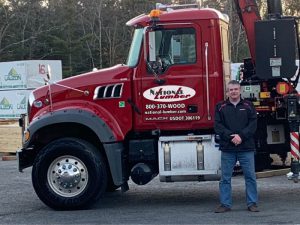 When the property in Kingston became available, it was the perfect opportunity to further expand National Lumber's services in Massachusetts. This new National Lumber fully stocked lumberyard is designed specifically to cater to builders, contractors, and drywallers, although everyone is welcome, providing everything in lumber, drywall, and building materials. Currently there is no showroom in Kingston, as in their other locations, but their experienced salespeople will give expert advice and can special order doors, windows, millwork, cabinetry and a lot more, which will come from their other locations in the area guaranteeing quick turnaround.
Extensive improvements to the buildings and grounds have now been completed. A Grand Opening celebration will be scheduled in the near future to introduce it to everyone in the area. Anyone interested in being invited should go to the "Contact Us" page on the National Lumber website at national-lumber.com and use the "Join Our Email List" link. Select "*Kingston" to be put on the email list.
About National Lumber
To date, National operates 10 retail lumberyards in New England, with 7 Kitchen View showrooms, and 11 Benjamin Moore paint stores. The National Lumber Family of Companies also includes manufacturing facilities under the name Reliable Truss and Components in New Bedford, Massachusetts and Branford, Connecticut, plus National Millwork, with a distribution facility and state-of-the-art custom millwork shop in Mansfield, Massachusetts. This 85-year-old family business is owned and operated by the third generation of the Kaitz family.
Contact:
Deborah Rowell – Marketing Supervisor – drowell@national-lumber.com – (508) 339-8020 ext. 5726
Source: National Lumber Company