SRS Distribution Forms a Multi-Year Partnership with Professional Golfer Cameron Champ
SRS Distribution Inc. ("SRS") announced that it has signed a multi-year sponsorship agreement with professional golfer Cameron Champ.  Cameron is a rising star on the PGA Tour, since turning pro in 2017.  He played for the Texas A&M Aggies and has won twice on the PGA tour – the 2018 Sanderson Farms Championship and the 2019 Safeway Open.  Cameron is currently the 12th ranked player in the FedExCup and the 77th ranked golfer in the world.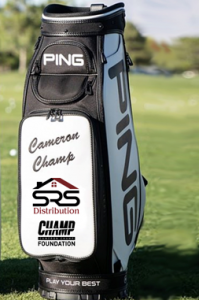 Dan Tinker, President & CEO of SRS Distribution added: "We are absolutely thrilled to have Cameron Champ become part of the SRS family.  On behalf of our over 60,000 customers, and the hardest working 5,000 plus employees of SRS, we look forward to cheering on such a quality individual and amazing rising star in the golf world.  Cameron stands for everything we value.  Diversity and inclusion, support of our veterans, blue collar roots, and an all-out aggressive way that he approaches everything that he does."
"I'm excited about the opportunity to partner with SRS Distribution," said Cameron Champ. "They are a best-in-class company, and do amazing work in the community to support our veterans. I'm proud to be able to represent them on Tour and to have their support for the Cameron Champ Foundation as well. I think the possibilities between us are going to be endless."
About SRS Distribution
Founded in 2008 and headquartered in McKinney, TX, SRS has grown to become one of the largest and fastest growing building products distributors in the United States. Since our inception, we have established a differentiated growth strategy and entrepreneurial culture that is focused on serving our customers, partnering with our suppliers, and attracting the industry's best talent.  We currently operate as a family of distinct local brands encompassing more than 350 locations across 44 states. SRS Distribution is a portfolio company of Leonard Green & Partners, L.P. and Berkshire Partners LLC with over 1,000 employee investors.
Source: SRS Distribution, Inc.