Ace International Enters Into Master Supply and Logistics Agreement with PIMSA Ferreteros in Mexico
Ace Hardware International Holdings, Ltd., a subsidiary of Ace Hardware Corporation, is pleased to announce that it has entered into a Master Supply and Logistics Services Agreement with PIMSA Ferreteros to provide the full warehousing and distribution solution for Ace International's Mexico initiative. The initiative will help grow the Ace Hardware franchise system in Mexico with Ace's turnkey business model, a convenience hardware store format, and includes pre-planned product assortments, weekly replenishment, and ongoing guidance and support to entrepreneurs looking for ownership opportunities.
PIMSA, headquartered in Monterrey and with over 40 years in business, ranks among the top four largest hardware wholesalers in Mexico, currently serving over 4,000 independent hardware retailers across northern and central Mexico. PIMSA has six warehouse and distribution facilities and offers a product catalog with over 15,000 active SKUs supplied from local vendors and Global brands. All product that can be distributed to local Ace stores on a weekly basis.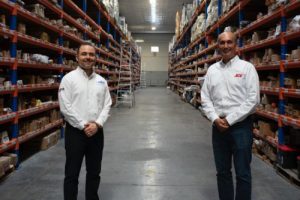 PIMSA will provide 60 percent of the product mix for locally owned and operated Ace stores from their current catalog. Additional product assortments will be provided by new vendors identified by Ace International, exclusive Ace private label products and dropship programs which include paint and other product lines.
"It was important that we partner with a company that could deliver on a considerable vendor network, sizeable warehousing space and frequent distribution capabilities for our Ace business model. We are committed to providing a variety of products and a lower cost of goods with weekly distribution capabilities to our locally owned stores so they may remain competitive in the market," said Jay Heubner, President and General Manager of Ace International. "With robust product assortments, helpful service and our knowledgeable associates, customers will be able to find what they need at Ace to complete their home improvement projects."
"On behalf of the PIMSA organization, I would like to express our enthusiasm for this strategic alliance with Ace International in Mexico," said Sergio Hinojosa, CEO of PIMSA Ferreteros. "With more than 40 years of experience in wholesale hardware distribution and a wide product offering of prestigious and recognized brands, we trust that this relationship with Ace will continue to support our company's mission of improving the quality of life here in Mexico."
The Ace franchise program in Mexico will offer a variety of flexible store formats ranging from 300 square meters to 3,000 square meters and will offer both Mexican and global brands to meet the needs of the home improvement consumer. Multi-Unit Development Agreements as well as Area Development Agreements with an initial term of 10 years are available for qualified investors. Experience with retail or franchising and a minimum liquid investment of USD $2 million is a requirement for interested investors.
For more information on investment opportunities in Mexico with Ace Hardware, please call Feher Consulting at +55-4177-8283.
About Ace Hardware
Ace Hardware is the largest hardware franchise in the world with more than 5,300 locally owned and operated hardware stores in approximately 70 countries. Headquartered in Oak Brook, Ill., Ace and its subsidiaries operate an expansive network of distribution centers in the U.S. and have distribution capabilities in Ningbo, China; Colon, Panama; and Dubai, United Arab Emirates. Since 1924, Ace has become a part of local communities around the world and known as the place with the helpful hardware folks. For more information, visit acehardware.com or newsroom.acehardware.com.
Source: Ace Hardware Corporation