The Do it Best Fall Market Goes Virtual, Drives Member Profitability
ReAt the virtual Do it Best Fall Market, member-owners discovered numerous opportunities to immediately increase their profitability while strengthening their businesses for 2021 and beyond. The semi-annual market, held exclusively online September 13 – 18, featured thousands of new products, exclusive vendor programs, informative seminars, and more to help independent dealers compete and win in today's dynamic marketplace. Do it Best also unveiled a host of innovative new features to its ecommerce platform designed to help members further grow their business and provide online customers with a streamlined shopping experience.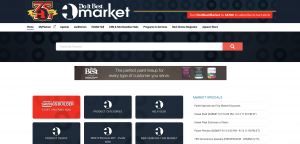 "Our markets have always provided our members with a great opportunity to connect and collaborate while exploring the great new products and special deals available to them. That's never been more important than this fall," said Dan Starr, President and CEO of Do it Best. "With the many disruptions to our lives and business this year, we've worked hard to create an online market experience that feels as close to the traditional event as possible. Now more than ever, and no matter where they connected, our members benefited greatly."
The fall market offered outstanding buys powered by the Market Savings Builder. Popular returning events included the Sneak Peek, Power Preview, and LBM Super Specials, along with tremendous deals tied to the company's 75th anniversary. The robust market website allowed participants to visit vendors' and Do it Best program booths, watch strategic buying presentations from Do it Best lumber, building materials, and merchandising experts, as well as educational training sessions from industry veterans. Attendees were also able to view Dan Starr's annual President's Address and Brad McDaniel's Chairman's Address.
As Do it Best saw record profits in FY2020, members earned record rebates, with $128.4 million distributed over the course of the market week. Nine members received rebates ranging from $1 million to $2.9 million, a new single-year record for the co-op.
Do it Best 2020 Vendors of the Year
About Do it Best Corp.
Based in Fort Wayne, Ind., Do it Best Corp. is the only U.S.-based, member-owned comprehensive and fully integrated hardware, lumber and building materials buying cooperative in the home improvement industry. With annual sales nearing $4 billion, Do it Best Corp. serves thousands of member-owned locations across the United States and in more than 50 other countries. For more information, visit doit?bestonline.com and follow us on Facebook, LinkedIn, and Twitter.
Contact:
Alex Wulpi – Ferguson Advertising – alex@fai2.com – (260) 428-1146
Source: Do It Best Corp.