NAHB: Market Share of Offsite Housing in 2019
According the U.S. Census Bureau data and NAHB's analysis, the share of non-site built single-family homes declined to 3% of single-family completions in 2019. However, this percentage is expected to rise moderately in 2020 and in the years ahead, as the housing industry looks to boost productivity amid labor shortages and declining housing affordability.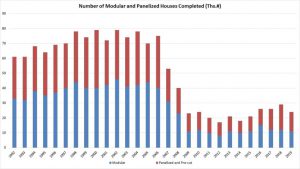 These data complement sentiments shared during Building Systems Week last month, including research and analysis by the University of Denver into the housing affordability crisis and how offsite construction can help provide solutions.
"We're seeing a huge growth in looking toward offsite construction right now," Dr. Eric Holt noted in his presentation, in part because of the significant savings in both costs and cycle time that different offsite technologies can provide. "You can do your research pretty quick and see this is where the market is going."
According to a survey conducted by Home Innovation Research Labs, which was also presented during Building Systems Week, 19% of builders are looking more favorably at offsite construction to help better control not only costs but COVID-19 safety protocols as well.
Replays of these webinars are available on nahb.org. Additional resources for builders looking to get started in off-site construction include the Housing Innovation Alliance Off-Site Heat Map and NAHB Building Systems Councils, which will be working with the University of Denver research team on additional off-site construction guides.
Danushka Nanayakkara-Skillington provides more analysis on the Census Bureau's offsite construction data in this Eye on Housing post.
Source: National Association of Home Builders