Blue Book Members: Plot Search Results or Watchdog Groups on a Map
Blue Book Online Services (BBOS) has a nifty feature that lets you take search results or a Watchdog Group (list of your companies saved) and plot them on a map using Google Maps.
First, execute your search using Search Companies in BBOS. Then, select the companies on the left that you want to appear on your map. Scroll to the bottom of the page and click "Show on Map." A popup window of a map will appear, with the companies plotted on the map with a pin icon like this:


Here you'll see search results for all lumber companies in the Blue Book database located in Alaska plotted on a map:
If you click on any of the blue pins, a popup will appear showing the name of the company and their address. Google also provides a field where you can enter a starting point address and get directions to go to that company. Here's an example:
To plot companies on a map from your Watchdog Group(s), just go to Watchdog Groups, click on the group you want to use and on the following page, choose the companies you want to plot on the map. Then click "Show on Map."
To plot multiple Watchdog Groups on a map at once, go to Watchdog Groups and choose multiple groups, then click on "Show on Map." Here's what that looks like – each group is distinguished by a color: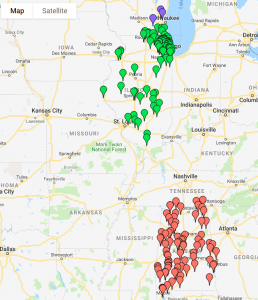 No matter what Members are looking for, we're here to help. Give us a call or send an email today.
We'll be happy to answer any questions you have or set up a webinar for you and your coworkers to learn more about your blue book membership.