Blue Book Members: Use the Lumber Blue Book Mobile App!
When you're looking to handle tasks on the go, the Blue Book Online Services Mobile app can help you stay connected. Included with every level of membership, BBOS Mobile is optimized for any Android™ or Apple smartphone.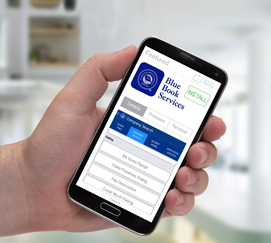 BBOS Mobile allows you to:
Search for companies by name, geographic region, Blue Book Rating, business classification, products, species and more.
Search for people.
Direct dial from a phone number.
Access real-time rating and listing information.
Link to email addresses and websites.
Connect to maps of company locations.
And more!
Download the app today, and login with your email address and BBOS password.  If you need your password, or have any questions about BBOS Mobile, contact us at info@bluebookservices.com or 630.668.3500.
To learn more about this or any other feature of Blue Book Online Services (BBOS), please contact our Customer Service team.  We'll be happy to answer any questions you have or set up a webinar for you and your coworkers to learn more about your blue book membership.