Jaeger Lumber Acquires West Essex Building Supply
Jaeger Lumber is happy to announce the pending acquisition of West Essex Building Supply. West Essex is located at 40 Depot St. Verona, NJ and will allow Jaeger Lumber entry into additional markets a bit further north and east of their Union and Madison locations. Similar to Jaeger Lumber, West Essex was founded in 1937 and caters to the same customer base of high-end builders and remodelers.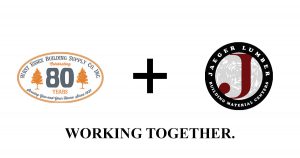 The Acquisition date for this location is currently December 30th, 2020. Jaeger Lumber president Bryan Jaeger stated "Acquiring this yard would not have been possible without the past efforts and excellence of every Jaeger Lumber employee over the years. We always strive to be a better place to work and do business with. We look forward to welcoming their employees to our Jaeger Lumber family as well as servicing the entire community in this new market area."
Jaeger Lumber is a full-service provider of lumber and building products with an exceptionally knowledgeable and professional team of sales representatives ready to serve you at any one of our now 8 locations throughout New Jersey.
Jaeger Kitchens, a division of Jaeger Lumber, designs custom kitchens, baths, cabinetry, offices, libraries, laundry and mud rooms to complement each client's individual style and budget. Jaeger Kitchens works hand in hand with your builder/remodeler or Jaeger's own installation division, Jaeger Home Concepts.
Jaeger Overhead Door is a division that provides installation and repairs of quality garage doors. Whether you are repairing a door or looking to change the appearance of your garage doors, this division is ready to serve you.
As Jaeger Lumber grows in size they still hold true to their family ownership mindset and look forward to getting to know the customers of West Essex come January.
Contact:
Jesse Allen – Marketing Director – jessea@jaegerlumber.com – (908) 686-0073
Source: Jaeger Lumber & Supply Co., Inc.