Palmer-Donavin Announces Internal Restructure and Names Matt Kaufman Vice President of Sales
As Palmer-Donavin (or the "company") builds unity among divisions, Matt Kaufman is named Vice President of Sales.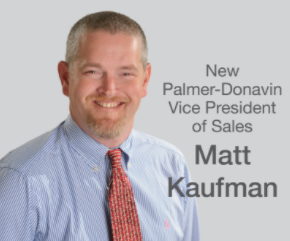 In the beginning of 2020, the company's rebranding initiative brought Palmer-Donavin and Seal-Rite Door to one name, Palmer-Donavin. While there were several changes to customer-facing resources, the Building Materials Division and Door Division continued to largely operate as two separate businesses. In the new year, the company will implement a plan to internally restructure from divisional to a more functional organization, eliminating redundancies. To accomplish this, the company is naming Matt Kaufman as the new Vice President of Sales. He will lead all Regional Sales Managers, and Regional Sales Managers will oversee representatives from both Building Materials and Doors.
Matt Butzier, COO of Palmer-Donavin, explained, "This change makes a lot of sense as we are a customer focused company. We have found that our dealers were looking for a single point of contact regardless of division; however, our sales managers were not equipped to service their needs. With this realignment, our team will be more informed and will offer the level of customer service our dealers should expect."
Matt Kaufman added, "We plan to leverage the strengths of each division to give our customers the absolute best solutions to help their businesses grow. We'll improve the internal communication with not only customer service, but our Outside Sales Representatives in the field."
Matt Butzier went on to say, "Matt Kaufman's experience working in both the Door Division and the Building Materials Division makes him the ideal candidate for this newly created position. His internal and external relationships will be a tremendous asset as we transition to one company."
About Palmer-Donavin
For more than 100 years, Palmer-Donavin has been committed to providing exceptional customer service. A leader in building material distribution and door fabrication, we are built from employee owners who believe in putting in the hard work to earn relationships one order at a time. Our tagline is "We Deliver More™" — products, expertise, and solutions that help our customers succeed. Learn more at palmerdonavin.com.
Contact:
Jenna Koenig – Digital Marketing Specialist – jenna.koenig@palmerdonavin.com
Source: The Palmer-Donavin Manufacturing Company