New Owners and a New Name for the RONA Store in Stanstead
Lowe's Canada, one of Canada's leading home improvement retailers operating or servicing some 470 corporate and affiliated stores under different banners, congratulates dealer owners Philip St-James and Stacy Boulet on their acquisition of the RONA hardware store in Stanstead, located at 8 Rue Principale, thus ensuring the continuity of its services in the area. The young entrepreneur couple, who have been involved for several years in the family-owned RONA Quincaillerie des Rivières store in Waterville, will now operate the store founded by the Fluet family under the name RONA Centre de rénovation Stanstead.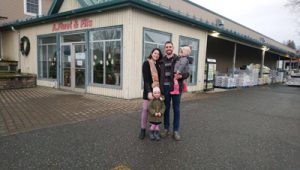 "The Stanstead store has a rich history of success, over 70 years of expertise, and a great reputation in its community. Once the family expressed their wish to find new owners and the opportunity to acquire the business presented itself, we acted without hesitation," said Philip St-James. "We are pleased to continue offering excellent customer service thanks to the experienced team already in place. We will look to the best practices and new industry trends to give the store a modern touch," added Stacy Boulet.
With a 7,500-sq.-ft. sales floor and a 38,600-sq.-ft. outdoor lumber yard, DIYers and professionals in the area have access to more than 23,000 products in store (including a large selection of building supplies, hydraulic pipes, and tools), and a vast range of services, such as tool rental and glass cutting.
"Dynamic entrepreneurs and visionaries who are attentive to their customers' needs, Mr. St-James and Ms. Boulet have already completed several major projects since joining the network of RONA affiliated dealers in 2005. While succession remains a challenge for many local businesses, we are pleased to have among our network driven entrepreneurs that wish to take on operations in existing stores to ensure a proximity service in our communities," declared Philippe Element, Vice-President, RONA Sales and Dealer Support at Lowe's Canada. "We are proud to celebrate the acquisition of this new store with them and to continue to support them in the growth of their business."
The new owners officially joined the Stanstead team on January 4 and will hold opening celebrations later this spring to mark the event with employees, customers, and the community.
To share this news on social media, please use @RONAStanstead or @RONAWaterville (Facebook), @RONA (LinkedIn), and @RONAinc (Twitter).
About RONA Quincaillerie des Rivières
Founded in 2003 by the St-James family, the business first acquired the Waterville hardware store, which was established in 1983. With the arrival of the second generation of owners, Quincaillerie des Rivières inc. joined the RONA network in 2005. In 2020, the dealers acquired a second RONA hardware store that had been serving the Stanstead population for more than 70 years, choosing to operate it under the name Centre de rénovation Stanstead. Globally, the family business employs some twenty people.
About Lowe's Canada
Lowe's Companies, Inc. (NYSE: LOW) is a FORTUNE® 50 home improvement company serving approximately 18 million customers a week in the United States and Canada. With sales of US$72.1 billion for fiscal year 2019, Lowe's and its related businesses operate or service more than 2,200 home improvement and hardware stores and employ approximately 300,000 associates. Based in Boucherville, Quebec, Lowe's Canadian business, together with its wholly owned subsidiary RONA inc., operates or services some 470 corporate and independent affiliate dealer stores in a number of complementary formats under different banners, which include Lowe's, RONA, Reno-Depot, and Dick's Lumber. In Canada, they have more than 26,000 associates, in addition to approximately 5,000 employees in the stores of independent affiliate dealers operating under the RONA banner. For more information, visit lowescanada.ca.
Source: Lowe's Companies Canada ULC