A Smooth Transition for the RONA Quincaillerie Crémazie Store
Lowe's Canada, one of Canada's leading home improvement retailers operating or servicing some 470 corporate and affiliated stores under different banners, welcomes a new dealer owner in its RONA dealer network. François Thifault, also at the helm of Thifault Notaires, has just acquired the RONA hardware store in the Montcalm district, located at 168 rue Crémazie Ouest in Quebec City.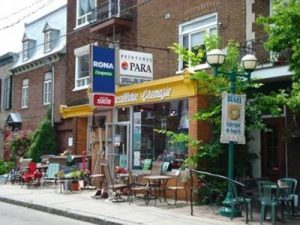 "I live and work in the Montcalm district, and the RONA Quincaillerie Crémazie store is part of what makes this neighbourhood so vibrant and inviting," said Mr. Thifault. "Thanks to the current staff's expertise and RONA's tailored support, my team and I will be able to continue providing excellent service to the community."
"We are pleased to welcome Mr. Thifault to our network and to have the opportunity to support him in his growth projects. Thanks to his entrepreneurial spirit and his commitment to providing a proximity service to local customers, he will ensure the continuity of the business that has been operating under the RONA banner since 1997," added Philippe Element, Vice-President, RONA Sales and Dealer Support at Lowe's Canada.
Located minutes away from the Old Québec and the Plains of Abraham, the 1,500-sq.-ft. store has been serving the community for over 75 years. Customers can find a wide range of products for their home improvement projects as well as a rich variety of kitchenware. For more convenience, the store also offers the options of home delivery or store pickup for purchases made online at rona.ca.
To share this news on social media, please use @RONAinc (Facebook), @Lowe's Canada (LinkedIn), and @LowesCanadaCorp (Twitter).
About RONA
Founded in 1939, RONA is a banner of Lowe's Canada, one of Canada's leading home improvement retailers headquartered in Boucherville, Quebec. Spanning the entire country, the vast network of more than 375 RONA stores includes both corporate stores and independent affiliated dealer stores. Known for its large in-store and online product offering, RONA also provides expert support and advice to its retail and professional customers for their construction and home improvement projects. For more information, visit rona.ca or follow us on Twitter, Facebook, Instagram, Pinterest, and YouTube.
About Lowe's Canada
Lowe's Companies, Inc. (NYSE: LOW) is a FORTUNE® 50 home improvement company serving approximately 18 million customers a week in the United States and Canada. With sales of US$72.1 billion for fiscal year 2019, Lowe's and its related businesses operate or service more than 2,200 home improvement and hardware stores and employ approximately 300,000 associates. Based in Boucherville, Quebec, Lowe's Canadian business, together with its wholly owned subsidiary RONA inc., operates or services some 470 corporate and independent affiliate dealer stores in a number of complementary formats under different banners, which include Lowe's, RONA, Reno-Depot, and Dick's Lumber. In Canada, they have more than 26,000 associates, in addition to approximately 5,000 employees in the stores of independent affiliate dealers operating under the RONA banner. For more information, visit lowescanada.ca.
Source: Lowe's Companies Canada ULC