R.P. Lumber Expands Into Iowa With the Acquisition of Dick-N-Sons Lumber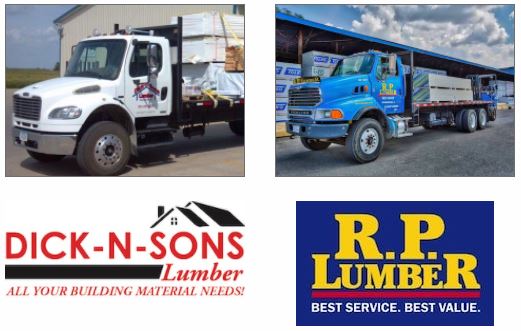 R.P. Lumber Co., Inc., a growing home improvement company with 71 locations, announced their acquisition of Dick-N-Sons Lumber, located in Blue Grass, IA. Founded in 1901, Dick-N-Sons is one of the oldest lumber yards in the state of Iowa and serves a diverse customer base of homebuilders, contractors, and do-it yourselfers.
R.P. Lumber already operates in the Quad Cities region but this will be the first location for the company in the state of Iowa. Dick-N-Sons will operate under the R.P. Lumber brand with key team members continuing at the company.
"We are excited to enhance and grow our service to the people of eastern Iowa from this new facility," said Robert Plummer, President & CEO of R.P. Lumber. "The VanDeWalle family have built a great company and we could not be more pleased to welcome the Dick-N-Sons team to the R.P. Lumber family," he added.
The VanDeWalle Family, added, "We are very active in our community and this was a very important decision for our family. Our employees, our customers, and the communities we serve are important to us and we know that, in working with R.P. Lumber and the Plummer family, they will be in good hands."
This expansion follows R.P. Lumber's June, 2020 acquisition of the two store Build-Rite Lumber and Supply chain in Wyoming. The transaction with Dick-N-Sons closed on February 5, 2021, with February 6, 2021 serving as the official first day of R.P. Lumber doing business in the Hawkeye State.
About R.P. Lumber
R.P. Lumber Co., Inc. is a full-service retail home center and building materials supplier. R.P. Lumber provides its industry-leading Best Service and Best Value by offering full-service delivery, complete hardware stores, lumber, drywall, roofing, kitchen cabinet design, and much more for professional contractors, retail consumers, and do-it-yourselfers. R.P. Lumber also operates a truss manufacturing facility in central Illinois and a robust ecommerce platform (shop.rplumber.com) offering over 100,000 items for sale with the click of a button. Founded by Robert Plummer in 1977 and based in Edwardsville, IL, R.P. Lumber has grown to a physical presence in 72 locations throughout Illinois, Missouri, Wyoming, and Iowa, and serves customers in numerous other states including Colorado, Indiana, Kentucky, Tennessee, Arkansas, Wisconsin, Kansas, Nebraska, and Oklahoma.
Source: R. P. Lumber Co., Inc.