Weyerhaeuser to Acquire Timberlands in Southwest Alabama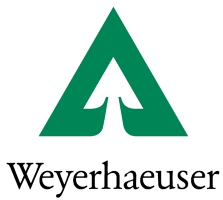 Weyerhaeuser Company ("Weyerhaeuser") announced an agreement to purchase 69,200 acres of high-quality Alabama timberlands from Soterra, a subsidiary of Greif, Inc., for approximately $149 million. The acquisition is comprised of highly productive timberlands situated in southwest Alabama, approximately 100 miles north of Mobile.
Key attributes include:
– Strategically located in one of the strongest inland sawlog and fiber markets in the U.S. South, with a deep and expanding base of customers and future export opportunities
– Fee simple ownership, highly integrated with existing Weyerhaeuser timberland operations
– Excellent operability, with significant all-weather logging access and well-developed road network
– Well-stocked timber inventory, including 76-percent plantation acreage with average age of 14 years, and an opportunity for increased productivity over time
– Immediate and sustained cash flow, with anticipated 10-year average Adjusted EBITDA of approximately $7 million annually
"This transaction is a great opportunity to enhance our portfolio by acquiring high-quality, well-managed timberlands with low operating risk," said Devin W. Stockfish, president and chief executive officer. "These timberlands are located in favorable markets and well-integrated with our existing supply chain, and we have strong relationships with a diverse and reliable set of customers in the area. We expect these timberlands to drive long-term value for our company."
Weyerhaeuser owns or manages nearly 600,000 acres and also operates two mills and a nursery in Alabama. The transaction is subject to customary closing conditions and is expected to close in the second quarter of 2021.
About Weyerhaeuser
Weyerhaeuser Company, one of the world's largest private owners of timberlands, began operations in 1900. We own or control approximately 11 million acres of timberlands in the U.S. and manage additional timberlands under long-term licenses in Canada. We manage these timberlands on a sustainable basis in compliance with internationally recognized forestry standards. We are also one of the largest manufacturers of wood products in America. Our company is a real estate investment trust. In 2020, we generated $7.5 billion in net sales and employed approximately 9,400 people who serve customers worldwide. We are listed on the Dow Jones Sustainability North America Index. Our common stock trades on the New York Stock Exchange under the symbol WY. Learn more at www.weyerhaeuser.com.
Contact:
Nancy Thompson – Media Relations – (919) 861-0342
Source: Weyerhaeuser Company