NAHB: First-time Buyers Comprise 43 Percent of New Home Market
According to the February survey for the NAHB/Wells Fargo Housing Market Index ("HMI"), first-time home buyers account for 43 percent of the new home market. Weighted by builder size (single-family homes started in 2020), about two-thirds of the builders reported that more than 20 percent of their homes were sold to first-time buyers. Twenty-seven percent even said more than half their sales were to first-timers. As noted above, the overall average was 43 percent.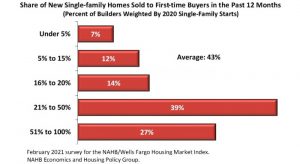 The average first-time buyer share has trended upward steadily since NAHB began using the current methodology to measure it in 2016. Between 2018 and 2021 the share grew strongly from 32 to 43 percent. The reason for the upward trend before 2018 is less clear, but declining interest rates undoubtedly contributed to the post 2018 surge. The rate on 3-year fixed rate mortgages in the Freddie Mac Lender Survey declined from over 4.75 percent in October 2018 to under 2.75 percent by the end of 2020.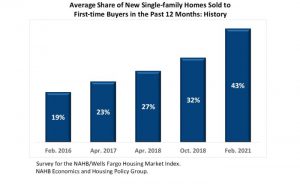 For comparison, the National Association of REALTORS® ("NAR") has tracked first-time buyers in the broader market that includes purchases of existing homes since the 1980s. According to NAR's latest Profile of Home Buyers and Home Sellers, first-time time buyers accounted for one-third of that broader market in 2018 and 2019, somewhat below the historic norm of 40 percent.
Source: National Association of Home Builders