Vance Bell Transitions to Executive Chairman of Shaw Industries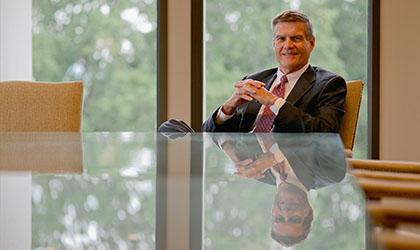 Shaw Industries Group Inc. ("Shaw" or the "company"), a subsidiary of Berkshire Hathaway, Inc., announced that Vance Bell has been named Executive Chairman and will be stepping down as CEO effective April 5. The company said that in addition to his role as President, Tim Baucom will succeed Bell as CEO. After nine to 12 months as Executive Chairman, Bell will move to non-executive Chairman of the company.
"After 45 years as part of the Shaw organization and 15 years as CEO, it is time to provide room for another generation of leadership. I'm pleased that Tim Baucom will become our new President and CEO effective April 5. Tim has the character, experience and leadership skills to be an outstanding chief executive for Shaw. Under his leadership I have no doubt that the company will achieve new and higher levels of success," commented Bell.
As Executive Chairman, Bell will be directly engaged in corporate strategy, acquisitions and major capital deployment along with providing advice and guidance to Baucom and the leadership team. As President and CEO, Baucom will have full authority and responsibility for the day-to-day operations and financial results of the business.
Baucom joined Shaw in 1992 after spending the first 11 years of his career with DuPont, where he held positions in engineering, manufacturing, planning, sales and marketing. Since joining Shaw, Baucom has led residential and commercial sales and marketing, as well as the company's Spectra organization. He was instrumental in building the commercial business into the largest and most profitable commercial flooring entity in North America. As president, he has continued to drive Shaw's customer-centric approach.
"I am grateful for every opportunity I have been provided under Vance Bell's leadership to serve Shaw's customers, communities, and – above all – our more than 20,000 co-workers around the world. I have experienced first-hand, every day the difference our people make in the experience of our customers – and in the future of the places in which we live and work," Baucom said. "All of us at Shaw and within the industry will benefit from Vance's continued involvement and support as Executive Chairman."
Over the past 15 years, Bell has guided Shaw through rapid change in the flooring market, along with navigating challenging economic cycles. Shaw is a dramatically different company today than in 2006 when nylon carpet represented more than 90 percent of the company's revenues.
Through investment, acquisition and innovation Shaw:
– is the market leader in residential carpet, making extensive investments throughout its manufacturing footprint, including state-of-the-art polyester fiber assets
– is the market leader in resilient flooring, the industry's fastest growing category, utilizing both best-in-class global logistics and domestic manufacturing
– has built one of the largest and most profitable commercial flooring businesses in the world, including global expansion with manufacturing in China and Scotland
– has a leading market position in hardwood flooring
– is an innovation leader in the artificial turf industry with significant growth prospects
Most importantly, Bell and the Shaw leadership team have enhanced and strengthened the Shaw culture by developing The Shaw Way, combined with a high-performance talent model that enhances organizational effectiveness and attracts the best talent in the industry.
"It has been the privilege of a lifetime to serve as CEO of this exceptional organization, and I look forward to supporting Shaw and its leadership well into the future," Bell said. "I am proud of the tremendous progress the company has made. Our talent and culture are widely respected, our focus on the customer is unrivaled, our products and markets are more diversified, and our profitability and access to capital have allowed us to make large investments for the future. I believe the company is in a uniquely strong position with its best days ahead of it, and I have no doubt that Tim and his team will take us to new heights."
About Shaw
Shaw Industries Group, Inc. supplies carpet, resilient, hardwood, laminate, tile and stone flooring products and synthetic turf to residential and commercial markets worldwide. We are a wholly owned subsidiary of Berkshire Hathaway, Inc. with more than 20,000 associates worldwide. Shaw is headquartered in Dalton, Georgia, with salespeople and/or offices located throughout the U.S. as well as Australia, Brazil, Canada, Chile, China, France, India, Mexico, Singapore, United Arab Emirates and the United Kingdom.
Source: Shaw Industries Group, Inc.