Palmer-Donavin Invites All to Nominate a Frontline Worker for a Free Door
Palmer-Donavin announced its PD Cares Contest is open for a second year, and participants are invited to enter to reward a Frontline Worker with a beautiful new Therma-Tru entryway.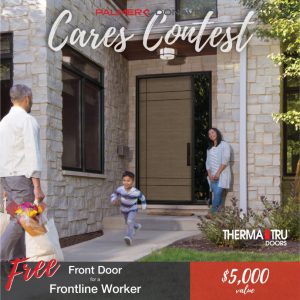 Since the pandemic, frontline workers in essential industries have been challenged to serve their community and keep others safe. Frontline workers, which includes anyone deemed essential in manufacturing, retail, healthcare, transportation, etc., continue to selflessly work within the public to support the economy and those in the community.
"In times like these, it is reassuring to see our own employees stepping up to meet new challenges and take care of each other," said Shawn Richard, VP of Human Resources at Palmer-Donavin. "From continuing to make deliveries to new safety measures in our facilities, we know firsthand the courage it takes as well as the challenges frontline workers face each day. I'm proud to be part of such a great team."
To praise the heroes in local communities, Palmer-Donavin launched a contest for the month of April asking participants to nominate a frontline worker who has been bravely fighting through the pandemic. Nominations will be reviewed, and the winner will receive a new custom front door for their home. Everyone is welcome to nominate as many frontline workers as they would like, including themselves. The form is available at https://resources.palmerdonavin.com/contest, where all are welcome to share the profession and story of the person they are nominating. The contest will close on April 29th and the winner will be contacted on April 30th and announced on social media on May 3rd.
"During the program last April, we received an overwhelming number of deserving nominations," shared Josh Thompson, VP of Marketing at Palmer-Donavin. "We felt it made sense for us to continue the program this year and offer a free front door to someone who has been selflessly giving through this tough time."
About Palmer-Donavin
For more than 100 years, Palmer-Donavin has been committed to providing exceptional customer service. A leader in building material distribution and door fabrication, we are built from employee owners who believe in putting in the hard work to earn relationships one order at a time. Our tagline is "We Deliver More" — products, expertise, and solutions that help our customers succeed. Learn more at palmerdonavin.com.
Contact:
Jenna Koenig – Digital Marketing Specialist – jenna.koenig@palmerdonavin.com
Source: The Palmer-Donavin Manufacturing Company