Musser Biomass and Wood Products, LLC. First in United States to Install Dryer One of Belgium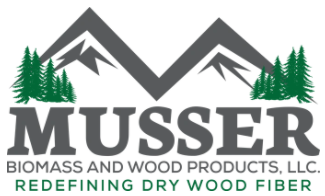 April 2021, Musser Biomass and Wood Products, LLC will bring online the first dryer in the United States from Belgium Company, Dryer One. President, Ed Musser, announced the opening of the new dryer and stated it will establish the Virginia company as one of the largest producers of dry wood fiber in the region.
Musser Biomass and Wood Products is a sister company to Musser Lumber Company. The company plans to work in conjunction with its strong base of green lumber mills to produce the most eco-friendly and consistent dry wood fiber on the market.
"Our goal at Musser B&WP is to provide hardwood fiber solutions for the growing pellet and composite decking markets and to truly redefine dry wood fiber," stated Ed Musser, "and it is an amazing thing to be the first in the US to utilize this technology.
For more information see www.musserbiomassandwood.com.
Contact:
Ed Musser – CEO – ed@musserlumber.com – (276) 686-5113
Source: Musser Lumber Company, Inc. and Musser Biomass and Wood Products, LLC.