CSX Closes Sale on First Phase of the $525-Million Rail Transaction with the Commonwealth of Virginia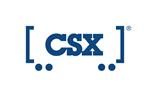 CSX Corp. confirmed the closing of the first phase of a comprehensive $525-million rail agreement with the Commonwealth of Virginia. This transaction is part of the Commonwealth's previously announced multi-billion dollar rail transportation initiative to improve service and infrastructure in the state.
"CSX is pleased to close the first phase of this transaction with the Commonwealth of Virginia," said James M. Foote, president and chief executive officer of CSX. "This transaction highlights our ability to find creative ways to generate meaningful value from our assets while enhancing the safety and efficiency of passenger and freight rail service in a vital transportation corridor. CSX looks forward to our continued partnership with the Commonwealth which will benefit commuters as well as our valued freight customers in the future."
On March 26, 2021, CSX entered into an agreement to sell certain interests in three CSX-owned line segments to the Commonwealth of Virginia for a total of $525 million. This first phase of the agreement is for the conveyance of a permanent land easement to enable the separation of passenger and freight rail operations in the Washington, DC to Petersburg, Va. corridor. The remaining phases of the deal relate to line segments from Petersburg, Va. to Ridgeway, N.C., and from Doswell, Va. to Clifton Forge, Va. CSX anticipates closing on the remaining conveyances over the next two years.
About CSX
CSX, based in Jacksonville, Florida, is a premier transportation company. It provides rail, intermodal and rail-to-truck transload services and solutions to customers across a broad array of markets, including energy, industrial, construction, agricultural, and consumer products. For nearly 200 years, CSX has played a critical role in the nation's economic expansion and industrial development. Its network connects every major metropolitan area in the eastern United States, where nearly two-thirds of the nation's population resides. It also links more than 230 short-line railroads and more than 70 ocean, river and lake ports with major population centers and farming towns alike.
Contact:
Bryan Tucker – Corporate Communications – (855) 955-6397
Source: CSX Corporation