Groupe Lebel Acquires the Temrex Sawmill in Nouvelle in Gaspésie
Groupe Lebel announces the acquisition of the Temrex Forest Product sawmill. This processing complex, located in Nouvelle in the Gaspé, is one of the main sawnwood producers on the Gaspé Peninsula, with its annual production of 130 million board feet (bpm) of lumber. More than 140 employees contribute to the sawing, planing and drying activities of softwood lumber (spruce, pine and fir).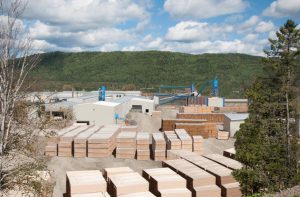 Following this transaction, Groupe Lebel and its subsidiaries now manage 20 sawmills and value-added production sites. The organization has a team of around 1,200 workers in the sectors of first, second and third wood processing. "We are delighted to integrate these new employees into the great Groupe Lebel team.
The Temrex lumber mill has a strong management team. This acquisition reinforces the distinctive expertise of our company. It allows us to add a large-scale production site to our network of factories, in a complementary geographical area "affirms Frédéric Lebel, Chairman and CEO of Groupe Lebel.
About Groupe Lebel Inc.
Groupe Lebel is a well-established family business in the forestry sector for over 65 years. A major player in the forest processing industry in eastern Canada, the company has grown through numerous investments and acquisitions for several years. Headquartered in Rivière-du-Loup in Bas-Saint-Laurent, the employer of choice is deeply rooted in the economic development of some twenty municipalities and regions in Quebec, Ontario and Maine.
Source: Groupe Lebel (2004) Inc.