Eastern Engineered Wood Products Acquires Property and Breaks Ground on New Distribution Center in Virginia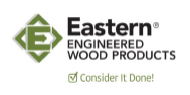 On Monday afternoon, representatives from the Virginia Department of Rail and Public Transportation, Charlotte County, and Virginia's Regional Heartland Industrial Facility Authority joined representatives from Eastern Engineered Wood Products for the groundbreaking of the company's new distribution center near Keysville, VA. They addressed public officials and guests from Keysville and the surrounding area who attended the ceremony.
The 32-acre parcel is located in Virginia's Heartland Regional Industrial Park at the interchange of US Routes 15 and 360. Construction will be completed later this year and the facility will consist of office space, cutting buildings, a drive-through storage building, and vertical racking. Approximately 22 acres of the site will be finished for inventory lay-down. It will replace a smaller leased facility the company occupies in Emporia, VA and will expand the present delivery footprint to new markets further west in Virginia and North Carolina. It will also service customers in Washington DC and parts of Maryland.
Similar to the model for its Distribution Center in Bethlehem, PA, the new location will be dedicated exclusively to the sale and distribution of Engineered Wood Products (EWP). "Our commitment to creating an exceptional customer experience ensures that our customers can expect accurate, on-time delivery of pieces, job packs, or truckloads of material in one to two days.
Even more important than stocking large inventories, hiring and training talented people is critical for us to meet our customers' needs," states Todd Lindsey, President of Eastern Engineered Wood Products. At full capacity, the company expects to provide up to twenty or more full-time jobs in Keysville and the surrounding area.
About Eastern Engineered Wood Products
Eastern Engineered Wood Products incorporated in Pennsylvania in 1998. The company distributes structural floor and roof systems to the professional contractor trade through a network of retail lumber dealers and truss manufacturers. More can be learned from the company website at www.eewp.com.
Contact:
Todd A. Lindsey – President – (484) 853-3100
Source: Eastern Engineered Wood Products, Inc.