Ferguson plc 2021 Third Quarter Results
Strong Q3 Revenue and Trading Profit
Third quarter highlights
– Strong revenue growth of 24.5%, including 20.1% organic growth in the USA, boosted by sequentially increasing sales price inflation and easing prior year revenue comparatives.
– US market demand accelerated through the quarter as the US economy continued to re-open.
– Gross margins of 30.9% were 110 bps ahead of last year driven by our ability to pass through price in a period of acute inflation and channel mix improvement.
– Good cost control ensured excellent underlying trading profit delivery of $560 million up $227 million.
– Solid operating cash generation in Q3 and strong balance sheet with 0.8x pro-forma leverage.4
– Completed $140 million of $400 million share buy back program in the period.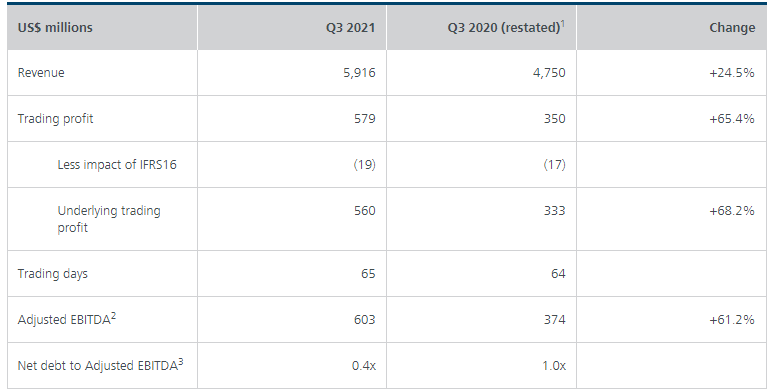 Kevin Murphy, Group Chief Executive, commented:
"Ferguson has brought forward its Q3 announcement as we delivered strong revenue and profit growth ahead of expectations. Our associates continued to provide outstanding service and support to our customers in the face of increasing supply chain pressures leading to product availability concerns. We were pleased with the strong earnings growth and margin expansion arising from continued operating efficiencies and pass through of acute price inflation as the US economy re-opens. We thank our 30,000 associates for their exceptional contribution to these results.
"Revenue picked up strongly through the quarter continuing into early May and we are pleased with the momentum in our business. Given the better than expected Q3 results, we are revising our outlook for FY2021 upwards as we expect to continue to outperform strong end markets in Q4. Based on our latest view of the operating environment we expect to generate Group trading profit in FY2021 (including the impact of IFRS 16) in the range of $2,000 million to $2,100 million.
"We are well positioned to manage through the near term though we are mindful of the ongoing effect of inflation on sales and gross margins and its potential adverse impact on operating costs. Looking ahead, we are confident in our strategy and we remain committed to investing in our talented associates, world class supply chain and digital capabilities to better serve our customers."
1) The Group disposed of its UK operations on January 29, 2021. Pursuant to IFRS requirements, the UK results have been reclassified to discontinued operations and the prior year comparative results have been restated.
2) Continuing operations only, excludes the impact of IFRS16. Adjusted EBITDA contribution from discontinued operations in the three month period to April 30, 2021, was $nil (three months to April 30, 2020 restated: $5 million loss)
3) Net debt excludes lease liabilities. Leverage ratio utilizes a trailing twelve months adjusted EBITDA for both continuing and discontinued operations and excludes the impact of IFRS 16.
4) Pro-forma leverage adjusted to include the $567 million cash flow impact relating to the interim and special dividends paid on May 11, 2021 plus the $260 million remaining outstanding on the share buy back announced on March 16, 2021.
About Ferguson
Ferguson plc is a leading value added distributor of plumbing and heating products to professional contractors operating in North America. Ongoing revenue for the year ended July 31, 2020 was $19.9 billion and ongoing underlying trading profit was $1.6 billion. Ferguson plc is listed on the London Stock Exchange (LSE: FERG) and the New York Stock Exchange (NYSE:FERG) and is in the FTSE 100 index of listed companies. For more information, please visit www.fergusonplc.com
Contact:
Mark Fearon – Director of Corporate Communications & IR – +44 (0) 7711 875070
Source: Ferguson plc