Stora Enso Partners with Vogue Scandinavia for Eco-friendly Fashion Media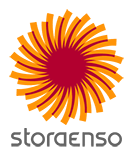 Stora Enso and Vogue Scandinavia have formed a strategic partnership to replace plastics in magazine packaging. As a part of the partnership, Stora Enso will provide Vogue Scandinavia with sustainability and packaging design expertise. A renewable, carbon neutral eco-package concept will be available for the first issue of Vogue Scandinavia, to be published in August this year.
As a part of the partnership, Stora Enso will provide Vogue Scandinavia with renewable magazine packaging, along with packaging design and automation services. The Vogue Scandinavia magazine packaging aims to be fully carbon neutral, with a renewable, low-carbon raw material and energy efficient production. The remaining emissions are offset by using the CarbonZero service by Stora Enso, in collaboration with compensation partner South Pole.
Stora Enso will provide Vogue Scandinavia with advisory services for sustainable materials and cradle-to-grave life-cycle assessments. Stora Enso will also support Vogue Scandinavia in transparent sustainability reporting.
"Together with Vogue Scandinavia we want to respond to the increasingly eco-conscious fashion audience's push for a greener world", says Ulrika Lilja, EVP Communications and Marketing at Stora Enso. "With renewable materials, circular design and carbon neutral technologies we make this a reality starting with the first issue of Vogue Scandinavia."
"When I first made the decision to launch Vogue Scandinavia, I also made a commitment to change the publishing industry across the region and make our magazine a leader in sustainability.
When I found Stora Enso, I immediately knew they would be the perfect partner to enable us to reach those goals. Stora Enso has both understood my vision and has fully supported me with their invaluable expertise, innovation and passion. Vogue Scandinavia is an entrepreneurial start-up. Our goal is to disrupt the traditional media landscape, and to do this together with one of the oldest companies in the world makes this one of the most fascinating collaborations of my career" says Martina Bonnier, Editor in Chief for Vogue Scandinavia.
About Stora Enso
Part of the bioeconomy, Stora Enso is a leading global provider of renewable solutions in packaging, biomaterials, wooden constructions and paper. We believe that everything that is made from fossil-based materials today can be made from a tree tomorrow. Stora Enso has some 25 000 employees in over 30 countries. Our sales in 2019 were EUR 10.1 billion. Stora Enso shares are listed on Nasdaq Helsinki (STEAV, STERV) and Nasdaq Stockholm (STE A, STE R). In addition, the shares are traded in the USA as ADRs (SEOAY). storaenso.com
Contact:
Ulrika Lilja – Executive Vice President of Communications – +46 72 221 9228
Source: Stora Enso Oyj